PARITUA 21.12 VERTICAL TASTING 24TH FEBRUARY 2015
Back in February I was lucky enough to secure a seat at the very first vertical assessment of Paritua's flagship red, the 21.12 over its five vintage history.  Only 5 versions have been made, because not every year will offer the correct conditions for winemaker Jason Stent and his team to create the magic they need to craft this wine.  Named 21.12 after the rapid number on the vineyard gate at their Maraekakaho Road site.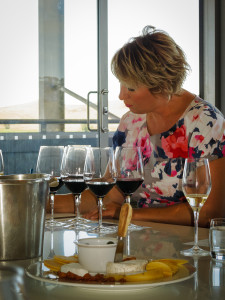 Here are some things you might find useful to know:
"We don't pick on numbers" says Jason "we pick on feel and instinct".  Because we're on red metal soils we have high iron content in the soil and I think that's replicated in the savoury, roasting pan juice characters which show in some of the wines".
"The 21.12 is always cabernet sauvignon dominant. We only use around 50% new French oak, oak sourced from Taransaud, Sylvain, Saint Martin and Mercurey."
Paritua 21.12 2007
"This is the one we think had the best potential to age" explained winemaker Jason Stent – and looking at this wine eight years down the track, he was definitely on to something. Originally crafted at Sacred Hill, while Stent was still employed as a winemaker there, the hue is heading down the earthy spectrum, while aromatically the wine is still showing youthful mixed spice freshness. The mouthfeel is clean textured and there's a lift of leafy complexity, dried herb and leather on the finish. It really opens up in the glass, so patience is required but rewarded. It still has a strong future ahead of it.
Paritua 21.12 2008
From a tricky vintage, where "it was really difficult due to intermittent rain" says Jason "our balls were on the line basically". Made on-site for the first time, this wine is developing bricky, earthy tones in the glass and shows deliciously dusty aromas, cloaking floral, spice-driven notes, prune and cherry flavours surrounded by savoury oak. The tannins are lightly structured but are still drying and powdery (having been held for 18 months in oak), accentuating nuances of cocoa and graphite on the finish. Long and elegant.
Paritua 21.12 2009
"One of the outstanding vintages, a dream basically" explains Jason, "this is probably the vintage that expresses everything we can achieve from this vineyard – we just had to be careful to exercise restraint". Richly scented, violets, plum and complex cocoa and spice intensity on the nose, followed by a silky, generously structured mouthfeel oozing dark fruit and savoury, roasting pan characters. Luxurious, long and seriously impressive on the finish – a classic already.
Paritua 21.12 2010
"This is my favourite," says Jason, "because it's more Bordeaux-like and restrained". Dried herbs, elegantly lifted florals, violet and rose notes burst from the glass. The acidity is fresh, stylishly handled and overall the wine is feminine, fruit-saturated, slightly savoury and buoyant on the palate; while the finish is long yet lightly textured.
Paritua 21.12 2013
The fruit was harvested and put through an optical sorter for the first time. This meant every berry could be scrutinised for suitability and quality and the result is a wine wine incredible density and inkiness, glossy and magenta-black in the glass. Alluring aromas of dark berryfruit and smoke, edged with dark cocoa, baking spices and caramelised oak have created a deeply complex yet precise wine that is destined for the long haul. Outstanding.