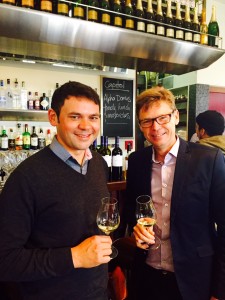 Happy Birthday Alpha Domus
"It's a great time to celebrate 25 years of being in the wine trade," says a clearly chuffed Paul Ham of Alpha Domus as he introduced a room full of hospitality professionals in Wellington recently. "It's also the perfect time to introduce you all to the 2013 Aviator and 2013 Navigator. 2013 was a top vintage; in fact we at Alpha Domus haven't actually seen a vintage like it before. It was just outstanding". Has it really been 25 years? I sat there and had to do some quick, mental maths (which, my friends will tell you, is never pretty) and sure enough it was back in 1990 that the Ham family first stepped sideways from their vegetable and flower seedling growing business in Palmerston North by purchasing a block of bare land in what's now the Bridge Pa Triangle in Hawke's Bay and planting it in grapes. They knew their plants, how hard could this wine thing be?
"For us, 25 years has meant planting the vineyard, building the winery, and then developing our sales channels" Paul explained, "it's been a substantial amount of work, it hasn't been easy. We've gone through hailstorms, frosts and loads of changes in the fashions of what people want to drink. Hawke's Bay wasn't always in vogue, but now what we have here are classic wines that people are moving back to".
With that, Paul introduced Alpha Domus' new winemaker, Barry Riwai – previously part of the multi-award winning winemaking team at Clearview Estate on the Te Awanga coast. "Barry took over from Kate Galloway and came to us just prior to harvest. Kate was with us for over 10 years and she really set a new benchmark for Alpha Domus wine and, no pressure Barry" as he gives him a wee elbow nudge, "because of that, we're expecting great things. Barry's task is to continue raising the quality as we move on," Paul laughs.
Barry and Kate, were actually former flatmates and also both hail from Hamilton, which is hardly a bastion of beautiful wine production – but no matter, their talents ended up being forged in Hawke's Bay. "Jobs like the one I now have at Alpha Domus don't come around very often," says Barry. "This was an opportunity I couldn't pass up. I'm very pleased to be part of the team, I'm getting to know these wines really well now and I'm really looking forward to taking them into the future".
With that, our group then swirled, sniffed, sipped, slurped and spat our way through the 2007, 2009, 2010 & 2013 versions of the Aviator, Alpha Domus flagship red wine. The 07 was dark, glossy and showed hints of truffle, liquorice and dried herb, while the 2009 had deliciously dusty tannins, a savoury edge and dark cocoa characters on the finish. The 2010 had a lovely lightness, juicy prune and leather flavours and a velvety finish, while the 2013 was a serious piece of work as you'll see in my review below.
Wine collectors with OCD hate the fact that the Aviator isn't made every year. "It can only happen when the fruit is perfect" explains Paul. "Especially seeing as the wine is cabernet sauvignon-dominant, and to get cabernet sauvignon ripe enough to meet the quality level that Aviator requires, takes a lot of work".   If conditions aren't quite right, then the wine they'd normally put aside for Aviator is declassified and put into Navigator, their merlot-based blend that was born back in 1997. "This maintains the integrity of the wine" says Paul, "because when you bottle a wine, whatever it is, but especially something like the Aviator, you have to be able to put your hand on your heart and say 'this is the best we could do' and that's the way we roll with this wine".

Alpha Domus AD The Aviator 2013 $72 ★★★★★
2013 heralds the Aviator's ninth vintage and it's got real style. Bright, glossy, juniper berry colour in the glass and scented with red rose, pepper and dusty oak complexity. In the mouth it's saturated with fleshy black fruits, fresh spice and smoke flavours, edged with elegant acidity and statuesque tannins to finish. Gorgeous. www.alphadomus.co.nz
Alpha Domus The Navigator 2013 $30 ★★★★½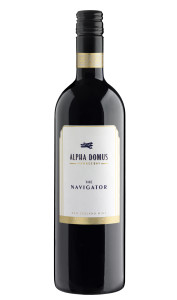 Blackberry, boysenberry, dark quava and intensely aromatic spice notes burst from the glass. Comprised of merlot, cabernet sauvignon, cabernet franc, malbec and petit verdot, this classic Bordeaux blend displays a delicious vein of dried herb and cocoa buoyed by fresh juicy acidity and good grip on the finish. Fabulous with sticky, slow roasted lamb shanks. www.alphadomus.co.nz