Published NZME Regional Newspapers Sat 30 May 2015
I'm typing this whilst sitting at the hairdressers, chin-deep in a billowing black cape. I have a head covered in little tinfoil parcels containing chunks of hair that are slowly sautéing toward a lighter shade of something-or-rather.  It's hardly attractive. There's something about hairdressers mirrors that make you look your pasty, flaky worst.  The lighting is designed to give the stylist the clearest view of what they're dealing with when it comes to your lid, but looking at your own reflection is downright depressing.  When did I suddenly become the owner of six chins?  And there are dark circles under my eyes that look like I've inserted the inner tube of a small child's bike tyre beneath them.  Sigh. Thankfully my salon has wifi, a coffee machine and a loud stereo – all essential distractions that, once I've also been blow waved, snipped and sprayed and had a small mirror waved around the back of my head, I'm clearly happy to pay a weeks grocery money for.
My hairdresser loves wine too. We yak away like a couple of nanas about the bottles that wowed or underwhelmed us.  He's also into guns and archery, anything that requires a precise target.  I think it helps his eye for detail.  It may also help him deal with the fact that when you're cutting or colouring someone's crowning glory, you have to get it right first time.
I've known my hairdresser for almost 14 years and in that time I've watched him become more confident and more at ease with his talent.  He sends clients out the door with a wave then turns back into the salon with a huge smile on his face because he's so proud of his work.
All these things; an eye for detail, a perfectionist attitude and growing confidence and pride, reminds me so much of Matt Stafford, the young Chief Winemaker who is doing great things for Craggy Range – a winery I've also been watching grow for the last 14 years.
"These 2013 wines are wines that in decades to come, my children will taste and say 'my dad made these, and they're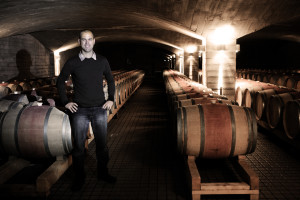 still tasting really smart', Stafford stated at a recent launch for Craggy Range's Prestige Collection.  "These wines really are the first ones where I can stand up and say that with confidence".
This 'prestige' collection consists of their flagship pinot noir 'Aroha', their merlot-led red 'Sophia' and their 'Le Sol' syrah.  'Sophia' and 'Le Sol' are produced from Craggy Range's Gimblett Gravels Estate, while 'Aroha' is based on two parcels of Pinot Noir from the Te Muna Road Estate in Martinborough – and all three of these wines represent the epitome that Matt and his team can achieve from the fruit in any year.
2013 is being touted as "the vintage of the century", "a generation" and even "a lifetime" by winemakers in Hawke's Bay, including the team at Craggy Range. They've even gone so far as to give the vintage it's own Twitter hashtag #starsaligned2013.  "To describe it in three words would be 'defining', 'resolute' and 'extraordinary' says Matt.  "It has no peer from what I've seen.  2013 gave us a dream run. December had a record number of days above 30 degrees and while we had some heat in March, it cooled down quickly. That helped slow down the sugar accumulation in the grapes, enabling us to maintain the natural acidity and that produced the most balanced wines we've ever had".
So how have the stars aligned?  "Vine age plays a big factor," says Matt.  "Combine that with a fantastic growing season, increased understanding of how to make these wines and having a better hold on the unique position they hold in the world, that's where we're standing strong".  They're pricey yes.  But they're delicious art in a bottle.
Craggy Range Aroha Te Muna Road Pinot Noir 2013 $99.95 ★★★★★

Highly floral aromatics, with rosehip and black tea, plum, rhubarb and a smorgasbord of red fruits burst through on the nose and make way to pillowy, cherry-bramble and spice-forward flavours. There's a hint of cassia bark, pomegranate, white pepper and smoke followed by leafy, lush, forest floor notes on the finish.  Delicious.  www.craggyrange.com

Craggy Range Sophia 2013 $72.95 ★★★★★
This rose and cedar-scented red is a blend of 62% merlot, 19% cabernet sauvignon, 18% cabernet franc and 1% petit verdot. Juicy and concentrated, this wine offers exotic aromas of bitter cocoa, sun-dried herbs and dense, dark berry fruit. There's also an instant hit of warmth and woodsmoke, graphite, black olive and soy, as well as it carrying the classic 'dusty' Gimblett Gravels tannins.  Lovely.  www.craggyrange.com