Published NZME Regional Newspapers Sat 23 May 2015
Once upon a time, back in 2006,  four self-confessed "school dad's from Napier hill" got together to form a club. "It was while we were celebrating my son Max's 4th birthday," says founding member Allister Bathgate.  "The dads were relaxing on the lawn when the subject of our wives bookclub came up.  We were left alone once a month while our partners went out for an evening of conversation and wine with their friends". One wine industry dad mooted the idea of the hubbies also getting together once a month, but they needed a proper, grown-up reason.  And thusly, a wine club was born.
'Twas a very special and wondrous gathering of likeminded menfolk who worked hard, had war stories to tell, and all enjoyed a good glass of wine.  Each month, the host would pick four red and four white wines and a blind tasting would be held. There would be much multiple-choice guessing and fierce swirling, sniffing, slurping followed by (not much) spitting.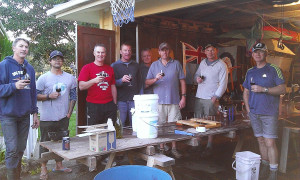 "We call ourselves the Philistines Wine Appreciation Society," says long time member Tony Clifford, "in deference to our ability to judge wine".
The Napier hill location was carefully considered as it meant that most of the men's homes were within walking distance after tasting events.  "The early days resulted in some late nights and foggy mornings; we were getting a bit of a reputation" shrugs Tony, "but we've toned it down in the last couple of years". Today each Philistine's meeting comprises of 8 core members, late 40's to mid 50's, hailing from all manner of backgrounds. "Sales guys, builders, plumbers, engineers, I.T, finance, hospitality and teaching etc. It's the diversity that makes (our group) interesting," he adds.
What started out as a wine education effort, has led to a strong social network that now even makes its own red wine. Having a vineyard manager on the team meant easier access to a vineyard, laboratory, gear hire and skills with chemistry. "We handpick the fruit after the harvesters have been through to grab all bunches left hanging around the strainer posts that the machines miss" explains Tony.  "With the help of the kids and partners, we manage to pick a pretty manky couple of tons of grapes over 4-5 hours on a weekend. We can't afford to be too picky, there's not much left after the harvesters".
Stalks are removed using a bin and chicken wire, before the berries are foot-stomped and everything is poured into an old milk vat to ferment for about 3 weeks, with someone needing to plunge the cap twice a day to extract colour and tannin.  "Then we syphon and press the wine off its skins and into two barrels, where it matures for around 12 months – then we bottle it".
Those two barrels produce about 660 bottles – giving each Philistine about seven-dozen.  "We only make Merlot because that's what we have access to" says Tony, "but we sometimes add a bit of Malbec for colour, plus anything else red that's available on the day to top up the volume.  We have to have enough juice to top up (the barrels) over the 12 months because somehow 40 litres just disappears somewhere?"
Membership criteria for prospective Philistines include having a healthy appreciation of good wine and good friends, "and they must have a supportive partner" say Allister. "Over 8 years we've enjoyed many special occasions together, we've also branched out to scotch and craft beer appreciation and we've even entered adventure races together".  The 10-year plan is that a 'Philistines' bottle sticker will be as well respected as Cuisine or Air NZ Awards one according to Allister "and that we're still catching up, enjoying an evening of wine with friends".
The Philistines currently have 2 full barrels of 2014 vintage to bottle and 500 litres of 2015 juice has just gone through primary ferment.  But how do they taste?  "The Merlot 2013 is pretty good, but he 2012 was a bit dry and often relegated to Spag Bol sauce.  But it's generally agreed that at some stage we've all purchased much worse examples than we've made".
Matariki Quintology 2009 $80 ★★★★★

After a few years in the bottle, this Gimblett Gravels-grown blend of merlot, cabernet's sauvignon and franc, malbec and syrah, is really hitting its straps.  With sexy, exotic aromas of ripe blackberry and sweet plum smashed into seasoned saddle leather and sprinkled with dried herbs, violets, bitter chocolate and white pepper – it's more than a delicious drink, it's an experience.  www.matarikiwines.co.nz

Toi Toi Marlborough Sauvignon Blanc 2014 $18 ★★★½
If you like your sauvignon  packed with passionfruit, lime, basil, pea pod and peach flavours then you'd best get your keyboard out and order some of this pronto.  Uncomplicated, fresh, zingy and superb with steamed mussels – what more do you need?  www.toitoiwines.co.nz
Golden Eagle 'The Bitter End' Special Bitter 500ml 4.4% $8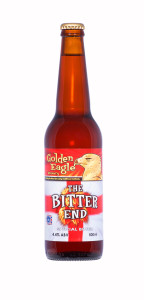 Crafted by Christchurch-based brewer David Gaughan, this is a powerful, biscuity beer with great freshness in the mid-palate, lifted roasting coffee bean characters and a cleansing, bitter finish. Solid.  www.beercellar.co.nz