Published NZME Regional Newspapers Sat 6 Jun 2015
I tend to daydream a lot about the things I'd do if I suddenly came into money.  Overwhelmingly those things involve hiring people who are expert in their chosen fields to do all the hard work for me.  I'd hire a cleaner, a gardener, a chef and another accountant to check up on my current accountant (because you can't be too careful these days), a builder to build my dream house, and an interior decorator to sort out things like soft furnishings, ornaments, occasional furniture (whatever those things are). I'd pay for a driver to drive me everywhere and find the best carparks, I'd instigate tutors in practically every school subject for my teenagers AND I'd hire a personal assistant to own my diary, to collect and send off all my medical receipts to Southern Cross, organize presents and cards for birthdays and anniversaries, and to remind me to worm the dog and de-flea the cat every couple of months.
And if a wine expert that I trusted were to tell me every year, which wines represented the best of the best from one of my favourite wine regions – then I'd send said personal assistant to go and buy them instantly.
The highly acclaimed palate of Sydney-based Master of Wine Andrew Caillard has been the independent selector for the top 12 wines from each of the last six vintages of the Gimblett Gravels Winegrowers Association. The 2013 selection was the most comprehensive yet, with a record 46 GGWA members' wines submitted for selection, and these wines came out on top:  Beach House Cabernet Franc, Mills Reef Elspeth Cabernet Sauvignon, Newton Forrest Cornerstone Cabernet Merlot Malbec, Squawking Magpie SQM Cabernet Sauvignon Merlot Cabernet Franc, Trinity Hill The Gimblett, Vidal Legacy Cabernet Sauvignon Merlot, Villa Maria Braided Gravels Organic Merlot, Craggy Range Le Sol Syrah, Esk Valley Winemakers Reserve Syrah, Mission Estate Jewelstone Syrah, Te Awa Syrah and Vidal Legacy Syrah. 
"The excitement generated by the perfect growing conditions of the 2013 harvest meant this was the most anticipated Annual Vintage Selection yet" says Gordon Russell, Chairman of the GGWA. "To have had Andrew Caillard MW with us in person has been a privilege, adding a global perspective and professionalism to this annual tasting. The 12 wines chosen as our Annual Vintage Selection are without doubt amongst the greatest red wines yet produced in New Zealand".
Glassy Eyed
Austrian luxury glass producer Riedel has just unveiled it's ultimate tribute to Central Otago with the release of a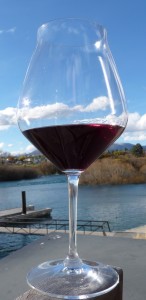 glass specifically designed to accentuate the world class attributes of Central Otago pinot noir.
The glass was officially unveiled in Queenstown last month. Riedel's Australasian managing director Mark Baulderstone said it will be marketed worldwide as the Central Otago Pinot Noir Glass and is the only glass in the Riedel range to carry a regional name.  This follows on from a workshop held in Queenstown two years ago by Georg J Riedel, the 10th generation head of the 250 year old family company, to demonstrate how different sized and shaped glasses influence the way pinot noir tastes.  Two glasses stood out, and from them a prototype was developed which then went on to become the official Central Otago Pinot Noir glass.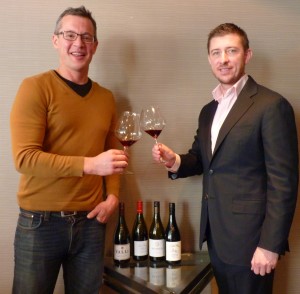 Central Otago pioneer winemaker Alan Brady said that the fact that the glass will be known as the 'Central Otago Pinot Noir glass' has "huge significance" for the region.
"Not only does this glass enhance our wines but it looks great and is delightful to hold. Every good restaurant in the region should be proud to have it on their tables," he said.
"The comparative tasting showed the subtle difference that glass shape and size have on the way wine tastes and feels in the mouth.
Georg Riedel says the right glass "enhances the experience" of drinking wine.
"It controls the flow of wine to the palate in a spectacular way.  The wine doesn't become better – it tastes better."
In Perpetuum…
This year, Ardbeg, one of the world smokiest, peatiest single malts turns 200.  To celebrate the famous distillery held a special International Ardbeg Day on May 30th, which synchronized tastings and events all around the world.  They've also celebrated their bicentenary with the release of 'Perpetuum', which has been crafted by Ardbeg's Dr. Bill Lumsden and designed to take whisky fans on a 'past, present and future' of the distillery with every sip.  If you're quick, New Zealand single malt lovers will be able to get their hands on a limited edition bottle from either Whisky Galore in Christchurch, House of Whisky in Auckland's Courthouse Lane, or Regional Wines & Spirits in Wellington.
Vidal Reserve Hawke's Bay Organic Sauvignon Blanc 2014 $19 ★★★★

Aromas of basil and lime, passionfruit, pepper and lemongrass lead to crisp, crunchy acidity, a burst of citrus and oodles of tropical tastiness on the finish.  Sourced from an established, high quality vineyard block outside of Hastings, this is a snappy, succulent example of sauvignon from the northern climes.  www.villamaria.co.nz

Quest Farm Central Otago Pinot Gris 2014 $24 ★★★★½
What started out as a mistake (growing a small amount of pinot gris to co-ferment with pinot noir) ended up being an exciting solo project for Mark (Mack) Mason and Michelle Crawford.  Fresh quince and nashi characters are sliced through with samurai sword acidity, leaving a wake of fresh stonefruit, spice and flinty minerality.  Juicy, dry and (as my twelve year old son would say) 'mean' with mussel fritters.  www.questfarm.co.nz