If you're an aspiring hospitality professional with a hankering to upskill your wine knowledge, by far the best way to do that is by getting down and dirty in the vineyard and winery. There's no better, faster, more authentic way to learn how this magical beverage is made, than by immersing yourself in the process, and right now one of the most revered wineries in the country is making that possible for one lucky person. Larry McKenna, the Gandalf of the grape, the Winston Churchill of wine, the Obama of Oenophilia if you will, is opening the doors of Escarpment Winery in Martinborough to keen entrants.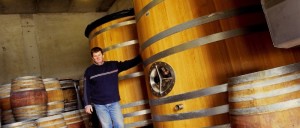 The winner will be adopted by the Escarpment winemaking team over a 7-10 day period during the crucial harvest month of April 2015, in order to plunge you into grape sampling and testing, harvesting, fruit processing, fermentation, pressing and barrelling. The winner will also get to enjoy full-on days (think 16 hour shifts), huge nights filled with food and wine, hours of merciless sledging from the existing vintage team about being the newby with soft hands and by the end of it all they will emerge victorious as the best darn tank-shoveller this side of the Huangarua River. "The wine industry needs to get behind ambitious hospitality professionals to encourage a greater understanding of wine production" says Larry "this is an exciting initiative which all bourgeoning sommeliers, chefs and maître de should explore". Last year's winner was Jarred Svelund from the French Café in Auckland, who said, "it was an amazing experience to be working with the team".

Entries close December 31st – so go to www.escarpment.co.nz/vintage-camp for more info on how to apply.