"Shall we double-decant the Grange's?" isn't something I hear everyday. My days are normally about as exciting as "Do you want fries with that?" or "What'll it be; trim or full fat?" But for a wine nerd like me, the question "Shall we double-de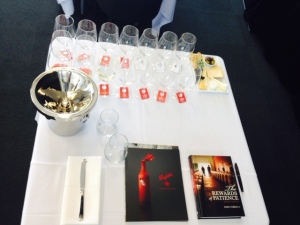 cant the Grange's?" is akin to hearing fairytale-like phrases such as "Mr Clooney, Mr Pitt and Mr Depp are here to see you madam", or "Shall we take the Bentley or the Bugatti to the polo?"
On a blisteringly bright Melbourne afternoon some weeks ago, I was bundled into an elevator with an army of wine writers from around the traps and hurtled to the top of building to a space known as 'Luminaire'. We'd been gathered together to sip our way through the Penfolds Collection, a group of wines that have, over the years built up a pedigree of pow-factor that has captured the attention of the wine world since 1844. And kiwi wine-lovers are no exception. For a nation of just 4.4million, we've had an un-slakeable thirst for Penfolds wines ever since they crossed the ditch, with collectors snapping up what little comes ashore, to squirrel away and only bring out on special occasions like birthdays, weddings and when the All Blacks win a World Cup.
Penfold's Grange is the most famous wine produced in the southern hemisphere. It is listed as a Heritage Icon of South Australia and is also the only wine able to claim to have single-handedly collapsed the career of a New South Wales Premier (he lied about being given a bottle of 1959 as a gift from Australia Water Holdings). It boasts an unbroken line of vintages since Max Schubert had a crack at making "a red wine capable of staying alive for a minimum of twenty years" in secret back in 1951. It's also the only wine to have increased in price by a whopping $200 a bottle over the last four years – global recession anyone?
On this day I'd get to taste the 2008, the 2009 and the shiny new 2010 vintage, a wine which custodian Peter Gago has publicly announced it's "the best I've seen" from "a vintage where nothing went wrong". I was trying to stay cool, but inside my excitement was volcanic.
Peter Gago is also scribe of some of the most flamboyant tasting notes I've ever come across. "An instant propulsion of assorted fruits/a piquant sprinkle of lemon-lime drops/affogato aromatics/an alive 'masterstock' continuum/Gravox-like tannins cloaked in a pastry crust garb/scents of black olive, meat jus/pan-scrapings, rosemary…all converge, arching across a darkened veil of fruit" to name a few from the notebook we're supplied.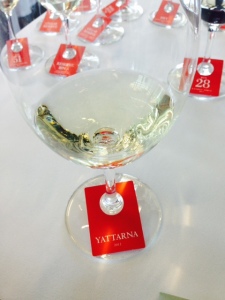 As we silently sipped our way through a comprehensive selection of their Icon, Luxury, Special Bins, Cellar Reserves and Bin wines, it dawned on me that the Penfolds people had been extremely clever in their planning of this tasting. Completely surrounded by floor-to-ceiling glass, we looked out over Melbourne's city skyline silhouetted in the late afternoon sun, helicopters hovering above snaking motorways, puffs of cloud snailing their way across the horizon and jumbo jets coasting in and taking off from the distant airport. It was just so beautiful. So beautiful in fact that when Gago himself sidled up to me and whispered "How are you finding the wine" just as I slurped a mouthful of the 2012 Yattarna Chardonnay, I found myself saying "Peter, I could be drinking wombat wee right now and it'd still taste like ambrosia of the angels."
To be fair, Penfolds Senior White Winemaker Kim Schroeder has crafted something stunning in the Yattarna. With its' exotic, grilled grapefruit, roast peach and hazelnut butter aromas and a palate bursting with clean, fresh citrus lines cloaked in creamy, cashew-like richness, it is exquisite. I try really hard to forget that I'm sipping wine in such a salubrious environment and imagine I'm back in my pokey little office where all things are equal – but it's bloody hard.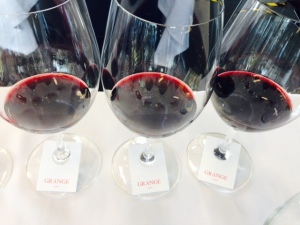 Of the three Grange's the 2009 was my favourite to drink now. The 08' had aromas of Snifter lollies, milk chocolate, intense plum, spice and robust oak. Lifted violets, sweet Christmas pudding characters, nutty nuances and a warm, velvet ribbon-like quality, it was seamless and pretty. "That year we had sixteen days above 35 degrees in South Australia" offers Penfolds Senior Red Winemaker Steve Lienert, "and 3 days where it went over 38". The 09 had a blend of buoyant florals and dusty, carpenters workshop notes on the nose and a profound density on the palate. It somehow balances plump, berry and spice generosity with poise, restraint and elegance.
Like Bruce Lee's one-inch-punch, you don't know its power until it hits you. I couldn't fault it.
Last but not least, I was treated to a thimbleful of the Penfolds 50Year Old Rare Tawny, of which only 330 bottles were made. At an eye-watering $3600 per bottle (there's one available at www.glengarrywines.co.nz), this inaugural release contains components dating back to 1915 and material from 1940, 1945 and post-war decades, capturing almost a century of fortified history in one blend. It was crafted to commemorate Penfolds 170th year, and sipping it was one of the most special moments in wine I've ever experienced. Deep amber, raisin-juice colour, it smelled like caramelised malt, fig past and ancient fruitcake complete with fossilised almond icing – like that slab of your parents wedding cake from 1973 you're keeping in the china cabinet. Silky and sensuous, with honeyed sweetness, it's rich and velvety leaving a layer of scorched toffee, coffee and cocoa on the finish. It was an unspeakably gorgeous thing to drink.
SIDEBAR
Penfolds Collection New Releases $NZ:
2010 Bin 95 Grange $835
2012 Bin 707 Cabernet Sauvignon $350
2012 RWT Barossa Valley Shiraz $220
2012 Magill Estate Shiraz $180
2012 Bin 144 Yattarna Chardonnay $130
2011 St Henri Shiraz $100
2012 Reserve Bin A Adelaide Hills Chardonnay $100
2012 Bin 150 Marananga Shiraz $70
2012 Bin 389 Cabernet Shiraz $70
2012 Bin 407 Cabernet Sauvignon $70
2012 Kalmina Bin 28 Shiraz $30
Sips of the Week
Penfolds Grange 2010 $835 ★★★★★
Impenetrably glossy in the glass, wafts of dried bouquet-garni herbs cloak a core of red fruits, chocolate, cough-drop, quince past and pepper. 4% cabernet sauvignon and injected a splash of extra-sweet berry concentration, soaked in spice and a squeak of sea salt while saturated in a pure, powerful acid spine. The tannins are tightly coiled, ready to unleash in decades to come.
Penfolds Bin 28 Kalimna Shiraz 2012 $30 ★★★★★
This wine represents insanely good value for money. It smells just like those chewy, red, heart-shaped lollies, intensely fruity and ripe and edged with liquorice and salted, rhubarb and berry coulis characters. This wine oozes boysenberry and the roasting pan juices of cocoa-nib dusted venison, pillowy and plush on the palate, it leaches dusty pot-pourri and cough drop flavours on the finish. Fantastic stuff.