Last week I wrote about everything being better in two's and how fun it is to taste two different vintages of the same wine side by side to pick out the differences. Well if the team at Dog Point in Marlborough didn't just decide to dial that idea up by 500% and open up ten vintages of all four of their wines in a vertical tasting from 2004-2014 that had "far out, this is a tad flash" written all over it.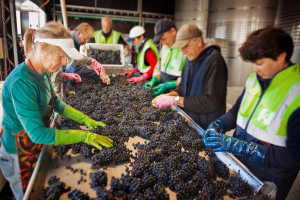 Dog Point was actually established back in 2002 by recent 'Wine Marlborough Lifetime Achievement' recipient Ivan Sutherland, and his good mate James Healy. However the first two years of operations saw them actually processing their fruit 5km away at Cloudy Bay, before their own winery on the Dog Point vineyard got up and running in 2004, hence 04 being the beginning point for this tasting.
The Cloudy Bay connection is an important one, because that's where Ivan and James met. Ivan and his wife Margaret planted their first vineyard in Marlborough back in 1979, and in 1985 when David Hohnen was establishing Cloudy Bay, he employed Ivan as his vineyard consultant and grower liaison manager and Healy was the winemaker. Together they were instrumental in creating the Cloudy Bay juggernaut that, thirty years later, does not appear to be slowing its juggering down anytime soon. So that combination of pioneering history, fine wine production pedigree and the securing of prime vineyard land meant that when Ivan and James struck out on their own, within a few short years, the wines of Dog Point had well and truly made their point here and overseas. They make four wines, sauvignon blanc, the Section 94 sauvignon blanc, a chardonnay and pinot noir; and once the tasting got underway it was quite incredible to see how these wine styles have developed over a decade. Sauvignon blanc for example usually begins to yellow and darken over time, yet colour-wise, the 2004 Dog Point looked as pale and bright as a baby. With steamed asparagus, basil, sweet, tropical notes and solid, vibrant acidity, it was proof that well-made sauvignon can last the distance. "Since 2006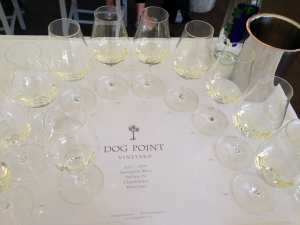 we've used increasing amounts of indigenous ferments and use of solids" says James. This wine divided the room, while many found it complex and deep, I found it coarse and ungainly (despite being a fan of wild ferments myself) – however the 2010 and the 2012 bring the sexy back with passionfruit, lime, white pepper and sweetpea tastiness.
Because there's so much of it around, people tend to think growing sauvignon is a doddle. "But we're producing a late-ripening variety in a cool climate region and people forget we're working in extremes," says Ivan. "1993 was the coldest year on record while 1998 was the hottest. The stamp of approval for your label is when you can make a wine in inclement years that still meets with approval".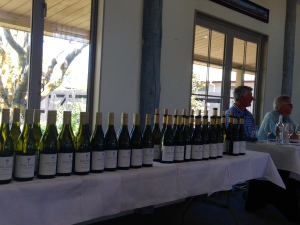 Section 94 is Dog Point's truly wild wine. Wines made from a single vineyard block, hand picked and whole bunch pressed straight to old, Francois Freres barrels. The name 'Section 94' is taken from the earliest land survey of New Zealand in the late 1800's where the country was divided up into sections which became the legal definition of a parcel of land. Section 94 was the name given to the area in which this block sits. With lifted smoke and mineral aromas, juicy lemon verbena, biscuit, nutty notes, this is one hell of a sauvignon style. "We've been making wild-fermented sauvignon blanc for over 22years" says James, "the ferments can last up to 16 months in some of these older barrels, but were a little apprehensive when we first made [Section 94] that it was going to be another [Cloudy Bay] Te Koko. We were rapt that we got so many different characters". The 2007 and the 2009 with its sweet frangipane toastiness, hints of dried herbs, juicy texture and excellent length were my favourites.
Time sort of stopped whilst tasting ten vintages of Dog Point chardonnay. The oldest ones looked deeply golden in the glass and were underpinned with creamy, caramelized pineapple, citrus pith and stonefruit flavours, and a biscuit, nutty finish. And apart from a slightly sulphidic blip in 2010 and 2011 they just kept getting better. The 2006 is still drinking stunningly well. "The fruit looked so good at harvest, it should have been in a basket at Harrods!" laughed Healy.
2012, 2013 and 2014 have been outstanding years for pinot noir according to Ivan.   "The average age of our vines is 20 years, which we think is adding more character, plus for the last three years we've been using stems in the ferments which has really changed the aromatic profile of our pinot". From 2008 James and Ivan also reduced the amount of heavily toasted, new oak used from 50% to a toned-down 40% and introduced some new Dijon clones, which has just ramped things up exponentially. I loved the colour of the 04, dusty and brick red like old blood and it was still hugely aromatic with hedgerow florals and spicy-sweet forest floor notes and its still carrying fresh acidity on the palate. Outstanding stuff.

Dog Point Chardonnay 2012 $36 ★★★★½
With grilled grapefruit and ripe peach and nectarine notes on the nose, it's a seductive wine from the get-go. Palate-wise it has defined layers of stonefruit and toasty oak, fresh, crisp acidity and a long, elegant mouthfeel. A lovely wine from a cooler vintage. www.dogpoint.co.nz
Dog Point Pinot Noir 2012 $47 ★★★★★
Amazing glossy crimson colour, incredibly exotic aromas of lifted cherry, clove, star anise, red rose, plum and pepper and a rich, alluring texture on the palate made it my favourite pinot of the Decade of Dog Point tasting. www.dogpoint.co.nz