This week, on November 22nd some of the rarest bottles of
Esk Valley
The Terraces will come up for auction at
Webb's
in Mt Eden as part of a two-day fine wine and whisky event.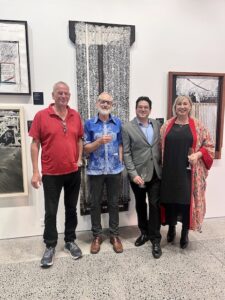 Last Wednesday I was extremely fortunate to attend a once-in-a-lifetime Esk Valley 'The Terraces' tasting at Webb's for a small number of collectors and the curious. Malbec-based and planted on old terraces carved into North-facing, volcanic ash, sand & seashell-littered soils near Heipipi Pa, Bayview, when it comes to quality, history and pedigree, The Terraces is undeniably one of New Zealand's most iconic, groundbreaking wines.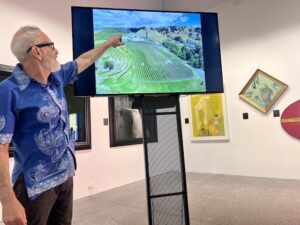 Debuting in 1991 and bowing out in 2021 (sadly, Terraces will be no more after 2021), this historic vertical tasting of every vintage produced was curated by Webb's Fine Wine Director
Marcus John Atkinson
and featured bottles owned by Australian-based doctor and internationally-respected wine collector, Klaas Akkerman alongside bottles sourced from Indevin, the new owner of Villa Maria and its brands. Esk Valley's winemaker,
Gordon Russell
talked us through each vintage as he's personally shepherded each and every one of them into bottles since the vines were planted in 1989.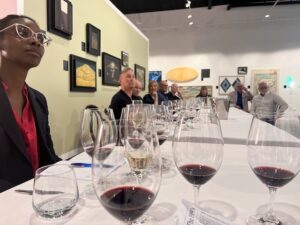 His stories were a joy. A golden, honest, very humorous history of this exceptional wine, of cyclones, droughts, triumph and disaster, of ditching corks in 2000, ditching irrigation in 2004 to moving to a brand new winery in 2018. We tasted decade by decade. And most importantly, (to the finely-tuned palates around the table), there was no discernible difference between the bottles acquired by Akkerman at auction, to those carefully cellared by the winery. They were amazing, with no detectable TCA (cork taint) in any of the 1990's bottles which is incredible. It showed how carefully auction houses check the provenance and quality of what they sell.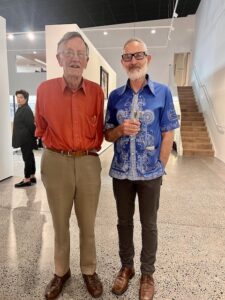 The 91,92,94 & 95 still offered silky, buoyant acidity, seasoned leather, bay, cedar and black tea characters, emery tannins and earthy complexity (despite having all been made with 100% new oak!) "It's just what everybody did back then" shrugged Gordon. Hero vintages of 1998 & 2013 still showed immense power, freshness and finesse – they're an excellent investment. The as-yet-unreleased 2019 was also given an exclusive preview to us at Webb's. It's exceptional, almost Rioja-like, juicy, fleshy, spice-saturated and layered with blueberry and liquorice (I gave it 98points) Make sure it's on your radar. AND finally, the last, very young, very mysterious wine we tasted was revealed to be a barrel sample of 2021, the last ever vintage of The Terraces. It was bursting with bouquet garni herbs, dark cocoa characters, precise acidity and plushness. It quieted the room.
Being able to sample these liquid national treasures whilst surrounded by Hotere's, Hammond's, McCahon's, Palmer's, Pardington's, Clairmont's, Cotton's, Smither's, Straka's, Maughan's and Millars, Tapper's, Woollaston's and Younghusband's, is a pretty darn spiritual experience. History across 17 glasses, as The Terraces was only made when the fruit was deemed exceptional.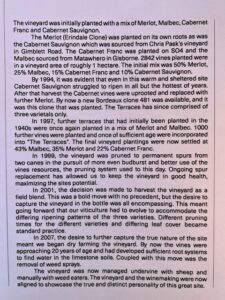 So yes. On November 22nd some of the rarest bottles of The Terraces will come up for auction at Webb's (alongside other incredible fine wines) and it's your chance to own a special piece of our past.
View the Esk Valley Auction lots here
https://www.instagram.com/p/ClIOi8MS8AN/?utm_source=ig_web_button_share_sheet