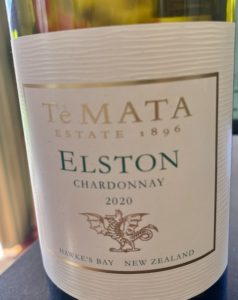 Te Mata Elston Hawke's Bay Chardonnay 2020 $37-$43

There's a reason why 2020 will go down as one of the greatest Hawke's Bay vintages of the century. Not just that somehow during a nationwide lockdown and under incredibly tricky, worker safety conditions, did the wines even get made – but the ripening season was a gift. Hot, dry and even-tempered, the grapes got to work, blessed by the sun (and supreme skills from vineyard teams) to produce concentrated, richly balanced flavours and the chardonnay, in particular, excelled. The team at Te Mata are so convinced, after decades of superb results, that the land at the foot of the Te Mata Peak heritage zone is the perfect spot for great chardonnay, that they've poured huge investment into developing more vineyards in the area, just to showcase its unique character.
Elston* is considered one of New Zealand's most prestigious chardonnays and 2020, for me, is an absolute aristocrat. Erupting with grilled lemon, nectarine and grapefruit gorgeousness alongside scorched cashew characters on the nose, the palate is an exercise in restraint. So was my ability to spit whilst tasting it. I just couldn't. Silky, refreshing, laden with smoked citrus complexity and delicious caramelised oak notes, it has a finish that makes you close your eyes and offer up a "mmmph" as your shoulders drop with satisfaction and contentment.
*Elston is named for Elston Hall in Nottinghamshire, the ancestral home of Charles Darwin's family.