Published NZME Regional Newspapers Sat 21 Nov 2015
Homage Returns
November 20th sees Trinity Hill release its flagship syrah, Homage 2013 ($120), the first Homage to be released since 2010.  Known now as one of the top red wines New Zealand's ever produced, full-stop, (except I put a comma there) it comes out with a new look and seasoned 'Homagers' will see it as a whole different beast.  "We think 2013 was an incredibly strong vintage and we only make Homage in the best years" says Chief Winemaker Warren Gibson.  "With Homage we also set out to make the absolute best wine we can – so the 2013 is not a 'Gimblett Gravels' labelled wine because we've included 15% hillside fruit  and the blend of the two parcels works extremely well.  So for the first time, this is the absolute best syrah we've been able to make from our properties – rather than just sticking to the 'Gravels". With carefully trialled footstomping, plunging and fermentation regimes, the wine has an extra dimension which fans of great syrah will love. www.trinityhill.com
What's the Story?
Stuck for gifty ideas for the wine lover in your life?  Wine: Stories From Hawke's Bay ($65) by Mark Sweet is a rip-roaring account of the history of one of New Zealand's oldest and most highly regarded wine regions. The whakapapa of winemaking in Hawke's Bay is revealed through a series of engaging stories spanning its foundations in 1836 to the present day.  The photography accompanying the stories merges spectacular current shots next to absolute historical gold sourced from the archives of public and private collections.  It's a seriously good-looking book too, thanks to the design talents of Max Parkes. Introduced by Bob Campbell MW and featuring an entertaining, informative explanation of what makes Hawke's Bay such a powerhouse wine region by Peter Cowley of Te Mata Estate; it's a fascinating social history of not just Hawke's Bay, but of wine's evolution in New Zealand.  The stories commence with early missionaries and pioneers from 1851 then traverse New Zealand's fascinating social history from the 1920s to 70s through to the renaissance of the late 1970's to 1990's and the massive expansion into the multi-million dollar darling that the wine industry is today.  Order from www.winestorieshb.co.nz
From dinky spritzers and pink-hued perfection, through to hearty, ribsticking reds – this week there's a wine for every situation and location.
Joiy Sparkling Riesling NV (4x250ml) $25 ★★★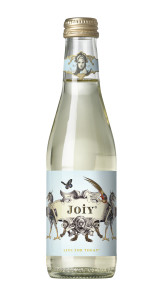 Bees, butterflies, exotic birds and mythical creatures adorn the storybook-ish, duck-egg blue label of this riesling-based wine spritzer.  It's been on the market for a couple of years and is going gangbusters according to winemaker Chris Archer.  Twist the cap, pour and you're met with sweet, musky stonefruit, hints of lemon and lime and a tangy, spritzy mouthfeel.  At just 9.5% alcohol it's a light-ish sip that's best consumed super-chilled, possibly with a wedge of lemon, maybe with a straw and in public only if you're under 30. www.regionalwines.co.nz

Craggy Range Single Vineyard Gimblett Gravels Rosé 2015 $29 ★★★★
Parcels of merlot and syrah were chosen and blended from Craggy Range's vineyard in the sun-baked Gimblett Gravels district in Hawke's Bay, gently pressed and slow-fermented to create a coral-pink wine packed with watermelon, guava and raspberry freshness.  On the palate there's that zing of cranberry and spice alongside a generous, spicy-dry mouthfeel and a long, lingering finish.  Stylish stuff.  For stockists visit www.craggyrange.com
Saint Clair Gimblett Gravels Syrah 2013 $23 ★★★½
Being a pioneering Marlborough producer hasn't stopped the Saint Clair crew from forging further into northern climes to nab themselves some prime red wine territory in Hawke's Bay.  This syrah has all those classic plum, violet and pepper-driven spice characters that you'll be asking for, alongside good punchy fruit, supple, elastic tannins and solid length of flavour.  www.saintclair.co.nz
In just a few short years, Elephant Hill, under the guidance of winemaker Steve Skinner, has become a colossus in terms of its award-winning contribution to world-class wine production.  With an intense focus on creating exceptional reds from its select sites around the region, in 2013 the stars certainly aligned with Steve and his team being able to release three stellar examples.  They are on the pricey side, but they're worth every cent and more in my book.
Elephant Hill Gimblett Gravels Syrah 2013 $69 ★★★★★
According to winemaker Steve Skinner, they did 33 different picks across their syrah vineyards, which, for a smallish, 200-odd tonne winery is a huge effort "but it was so worth it because we were able to single out some absolutely stunning parcels to make wines like this one".  With a tiny splash of co-fermented viognier to add floral lift to the pepper, plum and concentrated berry backbone.  In the mouth it's beautifully balanced and boasts dusty, graphite-like tannins.  Fresh and full of life, it's a limited, cellar door and wine club members only release – so best you scoot down there or sign up straight away.
Elephant Hill Airavata Syrah 2013 $95 ★★★★★
This wine was 3.5 years in the making.  Choosing the best possible syrah rows, adopting a specific canopy management strategy to grow 'super syrah' and then working on it with kid gloves in the winery to create the first 'Icon' syrah since 2009.  This Airavata (meaning 'the king-god of Elephants') is impenetrably deep and inky, unfolding a peacocks tail of violets, dried herbs, seasoned leather and heady, spice-driven christmas cake aromas.  In the mouth it has incredible depth and complexity, elegant, feminine fruit concentration and smoky, nutty nuances on the finish.  It's a wine that has decades of potential to exhibit.
Elephant Hill Hieronymus 2013 $95 ★★★★★
Named after a famous ancestor of the Weiss family, Hieronymus Ebner von Eschenbach (Lord Mayor of Nuremberg 1514-1524 apparently) – this inaugural release of a flagship red is a blend of the best Cabernet Sauvignon (60%), Malbec (20%) and Merlot (20%) from their Gimblett and Bridge Pa Triangle Vineyards that they could grow, and it represents the top of the tree for Elephant Hill.  Using a whopping 80% new french oak barrels has produced a cage-fighter of a wine.  Solid, masculine, sinewy and fierce – with tightly coiled tension and massive reach on the palate. With lifted dried herb, liquorice and cocoa characters on the nose, deep smoked berryfruit flavours, it's definitely got style and weight. "You can't give too much new oak to a big wine" says Steve Skinner, "they just soak it up".