Published NZME Regional Newspapers Sat 17 Oct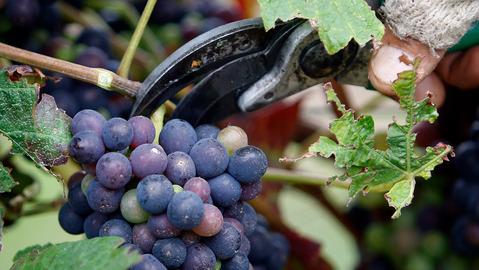 So you're looking over at the fence at the back of your section at that gnarly old grapevine that's been there since WAY before you bought the house and it occurs to you (again) "I wonder whether we could make wine from the grapes that grow on that?" Well here's the thing, Chandler Bing (Friends fans will get that), you absolutely could, but whether it'd be any good would be questionable.  Most kiwi backyard grapevines are table grape varieties like Autumn Muscat, Albany Surprise, Buffalo, Candice, Cardinal, Flame, Niagra, Thompson Seedless or Himrod (ooh er) – they're a tad sweet and watery to win much in the way of medals but hey, by all means grab a winemaking book from the library and give it a nudge.
Spare a thought however for Olivier Bernard, owner of Domaine de Chevealier and Domaine de la Solitude in France's Pessac Léognan region of Bordeaux. He and a group of volunteers harvested the regions oldest grapevine on September 23rd in order to turn it into wine. It's old, at least 200 years old in fact, and it grows in a canopy across a pergola in Place de la Victoire, smack in the middle of the city of Bordeaux.  Until the 1970's there were six vines in Place de la Victoire, but this is the last one remaining.  The grape variety, Txakoli Noir (also known as Tchacouli), is highly unusual and is thought to have originated in the Basque country.
'The challenge of making wine with this historic grape variety was impossible to resist,' Bernard told decanter.com. 'And the possibility of taking cuttings and planting them in other parts of downtown Bordeaux is wonderful. I love the idea of helping the city reclaim this piece of its history'.  The wine will be called La Vigne Bicentenaire.  'We will vinify in a single barrel, and make perhaps 40 bottles that will belong to Bordeaux. On first taste of the grapes, the skin is fairly fragile, with good sugar levels and a touch of rusticity. But that's allowed after 200 years of life…'.
Wairau River Marlborough Albarino 2015 $25 ★★★★½

Who'd have thought we'd be growing this snappy Spanish white way down in Marlborough AND doing a great job of it? Well, the Rose family at Wairau River are doing just that.  Beautiful aromas of citrus blossom, white peach and summer flowers tease the nose before an onslaught of bracingly fresh, flinty, mineral-driven flavours hit the palate.  It's got excellent length and character on the finish.  Lovely stuff.  www.wairauriverwines.com
Trinity Hill Gimblett Gravels Marsanne Viognier 2014 $30 ★★★★½
I LOVE this local version of a French favourite.  With lifted, lemon verbena, crushed herbs, anise and white pepper characters on the nose followed by rich, juicy stonefruit and spice layers in the mouth, it's just a joy to drink.  "2014 was a great year for both these varieties" says winemaker Warren Gibson, "plus aging it for 14 months in puncheon (500lt oak barrel) has given in great texture".  Agreed Warren, agreed.  www.trinityhill.com
Torresella Prosecco DOC NV $14.99 ★★★

This is for lovers of sparkling wine so dry it's practically skeletal.  Aromas of green apple, lime, flint and oyster shells lead to a nicely balanced, lean, chalky mouthfeel containing hints of citrus and shows good length of flavour.  www.winesale.co.nz
We're fast approaching festivities that will involve you acquiring fizz for the fridge.  So why not step away from the same-old same-old and impress your friends with your 'Think Pink' attitude.  These fizzies from foreign climes will fit the bill beautifully…
Codorniu Cuvee Barcelona 1872 Rosé NV $31.00 ★★★★
This is the first time I've tried Spanish Cava made in a rosé style and I really like it.  While white cava is traditionally made using Macabeu, Xarel-lo and Parellada grapes, this is made from a selection of different red grapes and is fermented in oak casks.  The result is a super-pretty, coppery-pink fizz with aromas of baked strawberries, raspberries and melon.  The palate however is bony-dry and bursting with biscuity, flinty, sea-breeze flavours.  For stockists visit www.mineralwine.co.nz

Jansz Tasmania Premium Rosé Brut NV $28 ★★★★½
Tasmania is known around the world as a producer of super-fine, delicate sparkling wines and Jansz have been at the top of the tree since 1986.  They've even coined their own brand 'Methode Tasmanoise' in homage to their France-Australia founders.  This rosé is ultra-pale, ballet-shoe pink with tiny, pinprick bubbles and aromas of craisins, melon and soft cherry.  In the mouth it's deliciously crisp and cleansing, with pink grapefruit and creamy, nutty characters.  Food wise it's crying out for a platter of sizzling prawns straight off the hotplate and slathered with garlic and chilli.  www.finewinedelivery.co.nz
J. De Villaret Cremant de Loire Rose NV $19.99 ★★★★

The Loire Valley is France's largest producer of sparkling wine outside of the Champagne region.  Most Cremant de Loire is produced around the city of Saumur and are blends of chardonnay, chenin blanc and cabernet franc. This super-affordable example has a very pretty salmon and rose gold colour, aromas of jam-filled pastry and soft,berry notes.  In the mouth it's creamy and beautifully  balanced, full, generous and fruity.  Definitely a new favourite for me.  www.winesale.co.nz