Published NZME Regional Newspapers Sat 10 Oct 2015
In 1985 about this time, I was sitting in a movie theatre watching Michael J Fox as Marty McFly travel via his silver DeLorean thirty years into the future, to 2015. 1985 was when our family moved from Takapau to the big smoke of Hastings and I got to go to a school where they had a canteen.  A canteen!  Where you could buy iceblocks and k-bars at lunchtime!  Crazy times.  1985 was the year of grand ideas and great discoveries.   Pictionary and the Nintendo console was invented, Guns 'N Roses and Crowded House were formed, they found the wreck of the Titanic and they also found a huge hole in the Ozone layer.
But what the world wasn't aware of, was that way over in the tiny, sheep-infested archipelago that is Aotearoa, the very first bottles of Cloudy Bay Sauvignon Blanc were sneakily being packed up and shipped out of their Marlborough winery to shop shelves around the land.  Marlborough, where it was all about sheep farming, orchards and garlic right?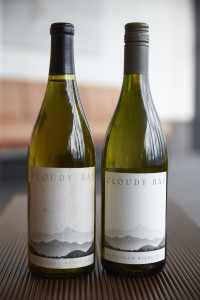 Well as soon as those bottles of 1985 Cloudy Bay Sauvignon Blanc found themselves in front of international wine critics, with its ahead-of-its-time stylishly cool label, masses of passionfruit, crushed herbs & crunchy capsicum characters – they were suitably stunned.  Our winescape would never be the same, Marlborough had to ready itself for rockstardom and every October 1st since then, fans around the globe have clamoured to get their fix.
Cloudy Bay Marlborough Sauvignon Blanc 2015 $35 ★★★★ If you close your eyes and someone pours this into a glass there's no way you could mistake the "Marlboroughness" of it.  Soft grassy goodness, sweet basil, red capsicum, sugar-snap pea and lemongrass saturate the nose and osmose through onto the palate.  This 2015 vintage is softer than previous vintages, but shows classic herbaceous flavours and generous, juicy tropical textures that will develop beautifully in the bottle over the coming year. www.cloudybay.co.nz

Maretti Barbera & Nebbiolo 2013 $30 ★★★½
This is a classic spicy red with bounce and buoyancy from Piedmont in Italy's north-east, Barbera is famous for intense acidity and freshness, while Nebbiolo steadies the blend with it's sold structure and length.  I like the toasty, leather, spiced plum and bright berry flavours alongside the tangy, tarry liquorice and peppery mouthfeel.  For stockists email misha@procureliquor.co.nz
St John's Road Motley Bunch Barossa Valley GSM 2013 $20 ★★★★
Loving this blend of Grenache, Shiraz and Mataro which is made by Phil Lehmann, son of Peter Lehmann who is a Barossa Valley legend.  It boasts vanilla, spiced plums and cherry notes, smoke, bright berries and stacks of fresh acidity.  It's a lovely, layered red with smooth, savoury notes and will definitely make you look good in front of your friends. www.winedirect.co.nz
Astrolabe Vineyards Sleepers Vineyard Albarino 2013 $25 ★★★½

Albarino has made itself well and truly at home here in the Antipodes, far from its Spanish home.  Simon Waghorn has crafted a white wine that's lifted, dry and has a whiff of oyster shell, lime and flint.  It's a lightly structured style that's bony, tangy and taut – lovers of dry whites prepare to be amazed! www.astrolabewines.co.nz