Published NZME Regional Newspapers Sat 12 Sep 2015
About two years ago I almost lost my left eye in a champagne cork accident.  I was opening a bunch of bottles to write my notes for the Christmas issue of Dish magazine and I forgot the golden rule.  "Always keep your hand firmly on the cork once you've unwound the metal cage – and GENTLY work the cork out".  My cellphone rang while opening said bubbles.  I took my hand off the cork for a split second to lean over the breakfast bar and answer the call and KABOOM! It felt like Dirty Harry had just shot me in the face.  I hit the lino, instinctively fumbling at my eye socket to check everything was intact.  I had a huge birds egg where my eyebrow met my nose but luckily, after a few blinks I realised everything was fine.  The cork however, was lodged firmly in the ceiling panel.  They're dangerous things corks, but even I was staggered to hear that one had succeeded in bringing down a passenger liner.  Last week it was reported by www.thedrinksbusiness.com that damage caused by an errant Champagne cork forced the pilot of an easyJet Airbus A320 to make an emergency landing.
The plane was on its way from London to a Turkish holiday destination when a flight attendant accidentally fired the cork into the cabin's ceiling panels as she was opening the bottle of fizz.  The impact caused oxygen masks to drop and the palne diverted to Milan, causing a seven-hour delay for repairs and refuelling.
The oxygen masks needed to be reset and the passengers (despite getting a bit of a fright to begin with) eventually saw the funny side of the incident.  No one was harmed, however there were a few people gunning for the loos as the plane disembarked.  According to the article, this incident marks a change from the usual drinks-related dramas on flights. These have included a Russian man who was beaten up and bound with Scotch tape after becoming "visibly inebriated" on a flight from Hong Kong to Vladivostok in July and last month a woman was prevented from boarding a plane in China after downing an entire bottle of Rémy Martin XO. Airport security had told her exceeded the 100ml liquid limit permitted in hand luggage – so she disposed of it the best way she knew how.
Tohu Rewa Methode Traditionnelle Blanc de Blanc 2012 $32 ★★★★

A couple of years in the bottle has seen this impressive Marlborough-grown, 100% chardonnay-based bubbles mature very nicely indeed.  Deep straw-yellow colour and showing delicate beading and smooth cashew nut and creamy lemon characters on the nose and palate give this sparkling good complexity and weight.  Gentle acidity and biscuit notes on the finish make this a winner with those early-season whitebait fritters.  www.regionalwines.co.nz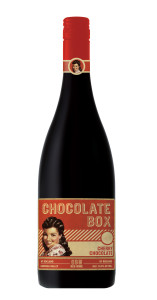 Chocolate Box Cherry Chocolate GSM 2013 $23 ★★★★
If you prefer your reds to be sweet, plummy, plush and velvety-smooth, then this will definitely spin your wheels because it's all of the above and more.  Juicy, generous dark fruit, loads of spice and chocka with chocolate, this blend of grenache, shiraz and mourvedre is fleshy, feisty and fabulous.  www.sceniccellars.co.nz
Byrne Vineyard Northland Chardonnay 2014 $29 ★★★★½

I really like the creamy, honeyed toast aromas in this wine, they merge with the youthful oak, and ripe nectarine and grilled pineapple punch in the mid palate.  This is lovely stuff indeed from winemaker Ben Byrne – a definite Northland star producer.  www.byrnewine.com
I love it when wines come across my desk and deliver a real slap across the chops.  Don't get me wrong, I'm all about elegance and refinement when it comes to great wine, but sometimes you just want something that'll shiver your timbers and clear the cobwebs right off the bat.  These wines will do just that.
The Barry Bros. Shiraz Cabernet 2013 $23 ★★★★½

Tom and Sam Barry are the 20-somethings who made this little cracker that scooped the trophy for Champion Shiraz Cabernet blend at the Royal Queensland Show AND took out the Champion Shiraz Cabernet blend trophy at the Melbourne Wine Show last year.  It's a generous and juicy, highly succulent red that's packed with plum, blackcurrant and bouquet garni goodness.  A squeak of pepper and cocoa carries through on the finish, making it a dangerous combo with anything beefy.  www.glengarrywines.co.nz
Herve Kerlann Aligoté 2013 $23.50 ★★★★
From France's Côte-d'Or comes this deliciously dry, chalky, oyster-shell scented white, which is so crunchy and cleansing to drink, it's practically an oral exfoliant.  White florals, lime and quartz-like, mineral complexity make this a must-sip for those that like their wines so dry they're almost skeletal. For info on where to buy visit www.macvine.co.nz
St John's Road Blood and Courage Barossa Shiraz 2013 $20 ★★★½

Produced from fruit grown in the Seppeltsfield, Stonewell, Bethany and Ebeneezer sub-districts of the Barossa Valley, this is a very pretty, vanilla and berry-scented red that carries dusty, leather and cocoa characters alongside sweet, juicy fruit edged with creamy, chocolatey notes and smooth, earthy spices on the finish.  Robust and ribsticking. www.blackmarket.co.nz