Here's my dilemma. My job as a writer is making me fat! It's making me fat because firstly, being self-employed, I obsess about every waking moment being used efficiently, to earn money to keep things ticking over if you will. I'm also a mother of two and wife of one, so if I take time out to go to a gym or play a game of tennis, or join a sporty club or something – I get an enormous attack of the guilts. That old "you're being selfish", "times-a-wasting" chestnut.
So I haven't been exercising enough for starters. But secondly, my job is such a sedentary one. I've been on my bum for years. "Sitting is the new cancer," I was told recently, "there are too many awful health risks associated with sitting for too long". Oh great. My job not only involves sitting for extended periods, but I also write about food and wine, so when I'm not sitting and typing, I'm eating and drinking! If I di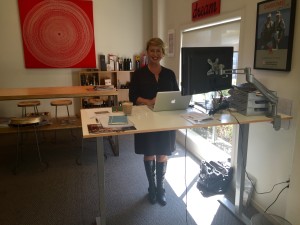 dn't do something about this situation I could very quickly become a heart attack in heels; so a couple of months ago I typed 'standing desk, new zealand' into my search engine, clicked on www.uprisedesks.co.nz and well, here's what happened…
Day 1
A very sporty-looking Stuart Davenport from Uprise arrives and sets up my desk. It looks stylish and simple, there's no crossbar so it's roomy and uncluttered underneath, plus it's the only desk of its type which clocks in at under $1000 – which works for me. We plugged it in and he gave me a quick tutorial on how to programme the desk to go up and down to the right height for sitting and standing. It's really simple –arrow up for taller, arrow down for shorter. But you can programme it to automatically set itself for certain heights – like if you're sitting on a chair, or using a swiss ball for example. You're supposed to sit down for short periods – that's normal and Stuart recommends it. The desktop also moves slowly and smoothly – which is good seeing as my desk is often crowded with bottles of wine and glassware of all descriptions.
I'd bought a $200 24" TV which easily screwed into the monitor arm and became my computer screen. It sits perfectly at eye-height and Stuart instructed me to move the monitor's position every now and again to "vary your positioning".
Day 2
Started work at 8.30am, stood until 11.30am – no probs, but my feet began to ache a bit. It's quite hard work, but I'm feeling more conscious of how my hips are aligned and I'm trying really hard to stand up straight. I've always had a bit of a sway back, so I tend to stick my tummy and hips out when I'm standing for long periods, however as I'm actually sort of leaning onto the desk whilst typing, it feels like I'm straighter, taller even.
Day 3
Today I had a dizzy-dressing moment and wore quite possibly the worst shoes possible. I forgot I had a standing desk now, how would I cope in my blue suede heels? But do you know what? I managed fine from 9am until 11am, then my toes and the balls of my feet began to tingle and ache. Easily fixed though, I just grabbed a chair, lowered the desk and was good to go. One hour sitting down and I was ready to get back on my feet. At that moment an email arrives from Stuart "Hope you're enjoying your new desk? Attached is a pdf that suggests some exercises you can do while at your desk. They don't require any equipment. Try going through the exercises 4 to 5 times a day. It is regularity that counts NOT how much effort you put in, if you only have a couple of minutes – no problem.  I'm also going to send you a swiss ball, resistance band and a massage ball this week. The whole thing with these desks is getting moving and changing the static nature of a standard sit-down desk".  Rightio.
DAY 4
So I did what Stuart said and adjusted the position of my monitor today and it's definitely mixed things up. I also did my first 'Barre Xtend' class at PilatesWorks in Havelock North last night – it was tough! But I feel somehow taller and my shoulders are actually dropping into a relaxed position as opposed to how they always used to be when I was sitting at my old desk – which was up around my ears most of the time.
Day 5
I thought I'd be all gung-ho today and decided that I didn't need to sit down at all. The hours ticked by and I felt ok, I was handling it and by 4pm my feet were feeling a bit tender but no biggie. The problem occurred later. At about 6pm I was due to host a wine event at EIT in Napier, so I threw on a frock and the highest, spiky heels I own – and within an hour I was practically hobbling. My feet and legs hadn't rested all day and the wheels fell off them in spectacular, painful fashion – they were still hurting the next morning.
Day 6
So the kids were off school today and I had loads of errands to do. Puppy to the vet, kids to the doctors, appointments here, there and everywhere – so there was no point going to the office. I ended up working from home on the old kitchen table – and man, did my neck and shoulders scream with discomfort after their week of standing.
So I made it through my first week…it's not easy, your feet hurt, your hips feel a bit wonky (although I think it's because they're actually in the correct position for the first time in years), but I feel taller, straighter and dare I say it, in better nick.
Being away from the office for a few weeks over January during the Christmas holidays meant I basically had to repeat my first week all over again, but this time I knew what I was in for – and things were back to normal super-quick.  Stuart sent through a small, spiky rubber ball with which to massage my back against the wall with (bliss) and some strong, stretchy resistance trainers which I use at least once a day for an arm workout (need to keep in shape for lifting all those wine glasses!)  Stuart also sent through a swiss ball to sit on when I needed to take some sitting breaks.
Four months on and I can't bear the thought of going back to my old desk. I especially love the monitor arm because being able to use my laptop as my keyboard is MUCH better than my old system of propping my laptop up on a stand and using a separate keyboard.  I love being able to electronically adjust the desk height for what shoes I'm wearing, or for when I want to use a chair.  I love that people come into the office space where I work and all comment on my standing desk.  I like being able to answer their questions about how it could fit into their working life and how it could make being desk bound not such a bad thing.