Back in January my husband and I were lucky enough to attend the 10th Annual Martinborough Meandering Vineyard Lunch. This is a coup because tickets tend to disappear with alarming speed as soon as the date is announced. Why? Because it's one of the best darn wine events this side of the Ruamahanga River that's why. Here's the deal. Four tiny wineries, Croft, Te Hera, Julicher and Coney, band together to put on a day filled with tasty wine, terrific food, rump-shaking music and all sorts of jolly japery for a small bunch of wine lovers. And if you think that sounds like fun – then wait 'til you get on the buses! Travelling round-robin style between each winery, the atmosphere in the buses is a bit like heading off to school camp, with dodgy singing, bags of lollies being passed around and the naughty kids guarding their seats at the back. It kicks off at 10.30am with ticketholders gathering in Martinborough Square for a couple of glasses of bubbly before boarding their allocated bus. It's a sea of sunglasses, straw hats, sleeveless frocks and sunblock. Our tour guide is May Croft, who in addition to being the local Anglican Vicar is also proprietor of our first winery. "Our wines are made by Paul Mason at Martinborough Vineyard, but everything else is done by me and my husband Peter".
We disembark to the beat of a groovy 2-piece bossannova band playing next to the tiny octagonal tasting room. May and Peter then talk us through five wines (the 2014 Sauvignon Blanc is superb) paired with an amazing selection of salmon dishes prepared by Café Medici chef, Nick Arnold under a prettily decorated marquee.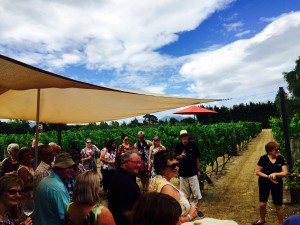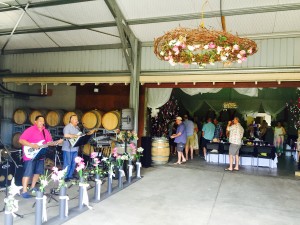 Commemorative bottles are purchased then we're off out to multi-award winning Julicher Estate on the Te Muna terraces, where we're greeted by the dulcet tones of "Haere Mai…everything is kapai" sung in beautiful, booming voices from The Cuzzie Bro's band. Sue Darling and Wim Julicher, together with Finnish winemaker Outi Jakovirta "she goes home to Finland regularly and we always pray she'll come back" had set up a beautiful bar inside the winery offering a smorgasbord of new sips. While their 2012 99 Rows pinot noir had us queuing, their rosé and chardonnay were also crowd favourites. Ryan and Hannah Tattersall from Cobar restaurant in Wellington's Days Bay crafted the food and thankfully the band busted out rousing renditions of 'She's A Mod'and 'Johnny B Goode' so we could work it all off. Then sadly, the bandleader announced, "you fullas have to go!" and we're serenaded with "Pokarekare Ana" as a sendoff.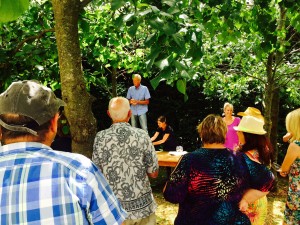 Dry River Road beckoned and we wobbled off the bus into the gates of Coney Wines where the effusively eloquent, wickedly wiry and masterfully melodic Tim Coney, talks us through his 2006 'Rollantando' riesling "which ages better than most humans". His winemaker daughter Lisa shows us their honeyed, succulent 'Ragtime Riesling' and ripe, pepper-laden Que Sera Syrah, before Tim stands on a trestle table to rattle off a poem. Post poem, he demonstrates how to "rub buds whilst on your knees" (not as dodgy as it sounds) then we're led into the serene confines of the dining room to indulge in a triumph of pork and pinot gris.
Our last stop is tiny Te Hera Estate, where Te Muna terraces pioneer John Douglas began planting pinot noir back in 1996. We knock back tastings of two delicious examples before taking our seats to plough through possibly the best quail dish I've ever tasted. No sooner had I gnawed through the last little leg, than John announced it was time for the quiz – hooray! Quizzes are my drug of choice. I love them, but I always answer too quickly without thinking the questions through properly. Which is why I bombed out in the third round. I forgot a Burgundy barrel is 2 litres bigger than a Bordeaux barrel. Bugger. However I did know what a 'cellar rat' was and that a 'wild fermentation' is not a very bad tempered winemaker.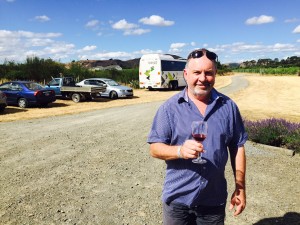 Matthew Finn from Wellington is a 10 year veteran "because it's like Toast Martinborough for old people. We came along to the first one because we bought a cottage in Martinborough next to John from Te Hera and he told us about it, and it ended up being the best day of the year. You don't have to decide what to buy, you don't need to keep paying for things, it's all included in the $150 ticket. You just arrive, the wines are served alongside delicious meals, you have a dance then you move on. And it gets better every year".