Has it been six years?  Really? When I first met Kirsten and Richard Searle they were a fresh-faced young couple bursting with nervous excitement having just taken possession of the iconic Matawhero Wines in Gisborne.  It was 2008, they had three babies, a whopping mortgage, a rundown, rambling wine estate and wide-eyed dreams for the future.  Fast forward half a dozen years, the property has snapped back into shape, the house and cellar door look positively classy, there's no more need for pushchairs and nappy bags and Kirsten and Richard Searle are finally being rewarded for six years of hard graft with a stack of medals and trophies at the fourth annual Gisborne Regional Wine Awards held last month.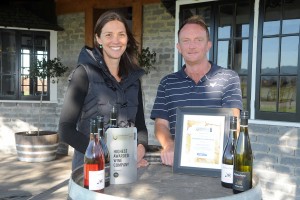 The winery, which actually began life in 1975 under the colourful control of Denis and Bill Irwin, scooped the Trophy for The Highest Awarded Wine Company along with gold medals for their 2013 Pinot Rosé, 2013 Church House Arneis, 2013 Church House Chenin Blanc and 2013 Church House Albariño. They also collected class wins for the Pinot Rosé, Arneis, 2013 Church House Malbec and 2013 Gisborne Chardonnay, and they scored best new white varietal with the 2013 Church House Albariño. To really put the Parmesan on the pasta, Matawhero's company viticulturist Jeremy Hyland won the Lead Viticulturist Trophy.
Gisborne isn't the easiest place to grow grapes, it's not for the faint-hearted, it's paradise one season, purgatory the next and it takes incredible skill, flexibility and tenacity to create good wine year after year.  That's where Jeremy's talent has really turned Matawhero into a supreme team.  Originally from Gisborne, but now heading a wine consultancy business based in Marlborough, Jeremy started his career at Corbans in the early 1990s before becoming head viticulturist at Kim Crawford in 2004 and now in addition to Matawhero, he also consults to Astrolabe, Jules Taylor and Eradus.  One thing's for sure, he knows how to get the best from Gisborne's ground and weather gods.
For years I've been championing Gisborne as an El Dorado for emerging varietals like Arneis and Albariño and it's got serious pedigree with classics like Chenin Blanc – but the thing which really made me do a little dance, was seeing their Church House Malbec 2013 win Top of Class.  I had seen the wine earlier in the year in my other guise as the wine writer for Dish Magazine and it was the first time Kirsten and Richard had included a red wine in their Church House range.  "We knew this parcel of fruit was special from the moment it entered the winery – with its lovely inky colour it oozed ripeness.  We wanted to showcase the fruit's pure varietal expression, hence producing a straight Malbec", commented Kirsten.
Dish magazine had decided to delve into what's beyond the well known in terms of reds, so we'd asked to see any red wines produced on our shores that weren't Cabernet Sauvignon, Merlot, Syrah or Pinot Noir.  The Matawhero Malbec topped the tasting out of 38 wines which included all sorts of exotic entries like Marzemino, Zweigelt, St Laurent, Montepulciano and Nebbiolo. Now 38 entries may not seem like a lot, but many of these varieties need excellent conditions for optimum results, which is why they're not necessarily produced as a single varietal every year, rather they're blended into other wines instead. 2011 and 2012 were cooler, challenging seasons, but the 2013 vintage was an absolute stunner, in fact 8 out of our top 12 wines were from 2013.  We were looking for our next NZ wine success story.  Syrah for example was once put in the 'other red' category and now it's a superstar so whose to say this couldn't happen for Cabernet Franc or Malbec or Grenache going forward?  Well with the top two wines being Malbec's, I think we can safely assume there's a good chance.
Here are our top four wines from that tasting, to see the full list of the top Dish Dozen, grab a copy of issue 54 June/July 2014 on newsstands now or visit www.dish.co.nz
1.     Matawhero Wines Church House Malbec 2013 $27 (5 Star Gold Medal)
Beautifully glossy, vivid scarlet-black in the glass and bursting with ripe plum, raspberry and cherry characters on the nose, deep dark plums, Christmas pudding spices and a lovely savoury, smoky meatiness on the palate made this an instant favourite. Packed with fresh fruit and lifted spices – the acidity is hefty (that's to be expected from such a young wine) yet it has lovely follow-through on the palate.  Stunning stuff. Decant if you can. www.matawhero.co.nz
 2.     Saint Clair Family Estate Hawke's Bay Premium Malbec 2013 $21.50 (5 Star Gold Medal)
Spicy and earthy, this is a very easy, elegant wine with sexy lifted red fruit and lushness on the palate, which is fresh and very appealing.  This wine hit that lovely balance between being a vibrant, generous wine loaded with fresh spices and lush fruit flavours while maintaining an elegant mouthfeel and a gentle, textural finish.  Very impressive. www.saintclair.co.nz
3.     Hawkes Ridge Wine Estate Tempranillo 2013 $32 (4.5 Star Silver Medal)
This wine really got the judges talking, as it's "big" wine in every sense, with real personality and presence.  It features a delicious mix of generous black fruit aromas and a nice synergy between all the components.  Slightly minty, shitake mushroom, soused plum and layers of berry fruit merge with a toasty, smoky palate.  It's a solid, warming, comforting wine that will reward a few years in the cellar. www.hawkesridge.co.nz
4.     Gillman Vineyard Limited Gillman 2008 $70 (4.5 star Silver Medal)
You'll love the deep, earthy mahogany colour, although at 6 years old it wasn't unexpected.  Delicately dusty on the nose, with spicy, Belgian biscuit notes and full, rich fruit intensity, this Matakana-made cabernet franc-dominant wine is well balanced, with supple tannins and attractive grip on the finish.  Developing secondary, cigar box and tobacco notes it's been aging gracefully having a harmonious quality amongst the chocolate, dark fruit and savoury flavours. www.gillmanvineyard.co.nz