The team at Lake Chalice Wines love spicy food. So much so, that it has created an entire range of wines designed specifically to serve with dishes of all chilli levels.
The wines are classed into four distinct "flavour" categories. The first, Spice Trail Hot, is a blend of riesling, gruner veltliner and a splash of gewurztraminer, which is a sweeter, citrus and peach-forward combo created to soothe even the fieriest dish. It's the go-to wine for that beef vindaloo or anything with three chillies next to it on the menu.
The next is Spice Trail Medium. Also a blend of riesling, gruner veltliner and gewurztraminer – this wine is slightly less sweet and has more of a mineral, spicy tang to it. It's designed to complement dishes with a bit of a kick, such as green curry or tikka masala.
Then it's on to Spice Trail Mild, my favourite wine of the lot. Blended from sauvignon blanc, gewurztraminer and chardonnay, it's got citrus and passionfruit zing, with a sneaky squeeze of lychee and ginger from the gewurz and lovely, round tropical tones from the chardonnay – and I love it.  Perfect with butter chicken or salt and pepper squid.
Then, finally, there's the Spice Trail Red. Normally I avoid big, red wines with spicy food because they clash badly – however, this Hawke's Bay syrah blended with a splash of spicy, floral gewurztraminer makes for a rather smooth, raspberryish, easy drink for those who just have to have a red.
Retailing for $18 a bottle, they're available on the www.lakechalice.com website and on the wine lists of Asian/Indian restaurants around the country.
Sparkling wine takes top spot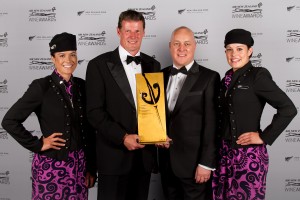 Congratulations to Clive Jones and his team at Nautilus Estate for taking out the prestigious Champion Wine of the Show trophy at last week's Air New Zealand Wine Awards with their Nautilus Cuvee Brut NV.
This is only the third sparkling wine in the 27-year history of the awards to take the coveted prize. It also won the Wineworks Champion Sparkling Wine trophy.
It's a wine that has wowed me since the first time I tasted it many years ago (it was first launched in 1989), and it's just so exciting to see it being awarded what is essentially the most important wine prize in the country. Chair of judges and master of wine, Michael Brajkovich, described the wine to the 520 guests as having "a richness, length and complexity on the palate that finishes with a fine, persistent acidity".
Made from 100 per cent Marlborough-grown pinot noir and chardonnay, it proves that it's possible for a wine to have power, presence and serious palate impact while being elegantly refined at the same time. Its modest $27-$30 price tag also makes it the bubbly bargain of the year.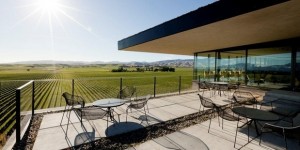 Cellar door wins international award
The Brancott Estate Heritage Centre in Marlborough has won a 2014 "International Best of Wine Tourism" award at a prestigious awards ceremony in California, the only New Zealand cellar door to ever do so. From 350 entries, just nine international winners were chosen from 53 "best of" winners from nine great wine capitals.
It's the home base for Brancott Estate wines (previously known as Montana), and is located at Brancott Vineyard, the site of the original sauvignon blanc plantings in Marlborough.
I've visited a number of times and can thoroughly recommend it for fantastic food, great service, jawdropping views (you can even see the North Island on a clear day) and staff who really know their wines. In addition to offering exclusive wine tours and tastings, they're equipped with the latest technology, which provides an audio-visual experience, telling the story of the brand and the pioneering nature of its founders and winemakers.
So it's no surprise the Heritage Centre won the "Innovative Wine Tourism" category for its "Mastery of Marlborough Sauvignon Blanc" experience, a tutored wine tasting that demonstrates the diversity of the Marlborough terroir and how it shapes Marlborough sauvignon blanc. The next time you're coasting through Marlborough, even if you only have a passing interest in wine, I seriously recommend a visit to the Heritage Centre – it's open 10am-4.30pm seven days a week.
Mills Reef Gimblett Gravels Syrah 2012 $18 

 Beautiful bright red berries on the nose and in the mouth it shows smooth, round, juicy tannins, ripe plum and pepper and solid, spicy characters on the finish. Very drinkable indeed. www.millsreef.co.nz
VinsSophora NV $20 

 Named after the yellow kowhai flower (genus: sophora) and launched a couple of months ago at NZ Fashion Week, this is a stylish new creation from Nick Nobilo, gewurztraminer guru and Gisborne icon. It's an intensely perfumed, super-fruity, slightly spritzy sip that's loaded with lychee, tropical fruit and spicy-sweet flavours. The bottle comes with petal-like panels and a funky kowhai and tui design by local stencil artist, Hayley King of Flox Design. www.vinssophora.myshopify.com
Domaine Louis Bouillot Perle Vigne Grande Reserve Brut Cremant de Bourgogne NV $27 

If you can say the name of this wine six times quickly and clearly and you'll definitely deserve a glass of this lovely French fizz. Attractive aromas of shortbread and lemon, a nice bite of acidity and a smooth, nutty, creamy complexity on the finish. I like the richness and complexity of this wine. It's got great length and texture too. www.advintage.co.nz
Deinhard Green Label Riesling 2012 $18.99 

I like that this wine has a scale on the back label telling me that it's a "medium sweet" style. I like the aromas of green apple and honeysuckle and thirdly, the crunchy, tangy lemon and apple flavours make this a very nice drop indeed.