Last August was the 40th anniversary of the very first grape vines to be planted in Marlborough's Brancott Valley.
More than 1100ha were planted (by hand and by the sight of a rifle to ensure straight rows) in a smorgasbord of varieties, including riesling sylvaner, cabernet sauvignon, pinot noir and one nobody had really heard of before, sauvignon blanc.
At the time, many locals thought growing grapes was madness – but four decades on our annual wine exports are valued at $1.21 billion and we have more than 34,000ha planted in vines – much of it sauvignon blanc. We grow four times more of it than any other variety.
No other country makes it like we do and it's now our global calling card.
If we were looking for a liquid national treasure, it would have to be the crisp, gum-tingling, lipsmackingly, grassy, herbaceous, passionfruit-laden lovely we know as Marlborough sauvignon blanc. Other regions, such as Waipara, Nelson, Central Otago, Hawke's Bay and Martinborough, are also cementing their sauvignon signatures, but Marlborough will always be its spiritual home.
I've just finished judging one of New Zealand's newest wine competitions, the Marlborough Wine Show in Blenheim, where, in addition to tasting hundreds of diverse wines (if I hear anyone say "one-trick pony" again I will go postal), I tasted about 60 new sauvignon blancs. I don't know what they were because all the tasting was done "blind", but they reflected what was a very mild vintage.
With this year's bumper harvest, in which 210,000 tonnes of sauvignon blanc were picked, it was a challenge to ensure the grapes reached full ripeness and that everything was harvested before the season wrapped.
It was clear that those who could closely monitor the fruit's sugar and acid levels, then pull them off the vines at just the perfect moment, produced the wines that wowed me. They had fantastic aromatic and flavour intensity and all those crunchy green characters that I love in Marlborough sauvignon.
"Timing is everything when it comes to making sauvignon blanc," says Tim Heath, senior winemaker at Cloudy Bay. "This year we were able to capitalise on it."
The judging format separated the sauvignons into four key categories to celebrate the subregions and what they contribute to the style. The first wines were multi-subregional blends; the second were Wairau Valley-dominant followed by Southern Valleys-dominant then Awatere and Southward.
Reviewing my score sheets, it certainly looked like the Wairau Valley and the multi-subregional blends had the edge.
Many of the this year's wines showed much lower acids. They were softer, more floral; they didn't have that signature eye-popping, squint-inducing zing.
But I think that's actually a good thing.
They're really approachable, accessible and, for those afraid to go back to Marlborough sauvignon after one too many bad acid experiences, a lot less scary.
HEAR ME RAW
No trip to Blenheim is complete without a visit to the stunning cellar door at Cloudy Bay vineyards on Jacksons Rd.
Not content to have only one of the most diverse selections of wine varietals available for tasting, skilled service staff, tasty light lunches, a gorgeous, relaxed, family friendly setting and amazing views of the majestic Richmond Ranges, the team at Cloudy has taken pairing wine and food to a new, stripped-back level with the launch of Raw.
Open from December 1, Raw Bar is designed to show how beautifully raw food can match different wine styles in a unique summer concept.
Visitors can sample kiwifruit-cured Ora king salmon served with Asian salad and palm sugar and chilli dressing; shucked-to-order Tio Point oysters and Cloudy Bay clams served with classic mignonette, ponzu dressing or a lemon emulsion or even venison carpaccio with blue cheese pannacotta.
Taste sensations such as these are perfectly paired with shiny new Cloudy Bay Sauvignon Blanc, their Pelorus Methode Traditionelle and even the classic Cloudy Bay Pinot Noir is a surprisingly good match.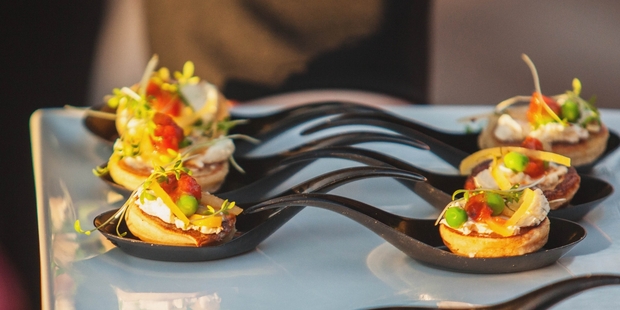 Cloudy Bay's new Raw Bar matches its wines with delectable plates of raw, flavour-intense food. It's a cellar door attraction that should prove irresistible over summer.
SIPS OF THE WEEK
Cloudy Bay Marlborough Sauvignon Blanc 2013 $35
If you're looking for a big, sweaty, passionfruit-packed sauvignon then best you move along because the team at Cloudy Bay are all about keeping it classy, and that means subtle florals, jalapeno, citrus and white peach aromatics, crisp, clean citrus-forward and herbal lines in the mouth, enveloped in a racy, vibrant finish.
Saint Clair Estate Premium Marlborough Sauvignon Blanc 2013 $21.50
Crafted from a selection of vineyards in the Lower Wairau and Dillons Point subregions, this wine shows blackcurrant leaf, white peach, sweet pea and passionfruit characters and there's nice, mineral-driven concentration here, too. It's very early on in the piece, and I can't wait to see how it develops over the coming months.
Spy Valley Marlborough Sauvignon Blanc 2013 $20
I really like the super-floral, sweet pea and watercress aromas and the way they lead to juicy apple and nectarine-like floods of flavour in the mid-palate.
It also has a nice presence and texture and lipsmacking, citrus-driven length of flavour.
www.spyvalleywine.co.nz
Giesen Marlborough Sauvignon Blanc 2013 $17
Wine drinkers who like their sauvignon lean and bony will love this one. Attractive, mineral and crushed stone aromas open up to a crisp, tangy splash of passionfruit and lemony green herbs in the mouth. It has a nice length of flavour and I can see it being a late afternoon cheese and crackers favourite come summer.