After more than ten years of trying without success to get a seat at the annual Pinot at Cloudy Bay event I was beginning to think it was just my destiny to forever fail.  The first year I was about to pop my cheque in the post when the phone rang.  "Congratulations, you're pregnant," announced the nurse confirming a recent blood test had revealed a conception, not an infection. "Curses" I muttered in the nicest, most motherly manner.  The next year the newborn, a toddler and a husband on nightshift meant a big girls trip to Blenheim was out of the question.  The next year it sold out and after that I was overseas. Twelve months later I was poorer than usual, actually that goes for the following year too (sadly wine writing is less than lucrative) and so it goes on.
Which is why when heading to Blenheim on the tiny, flying pencilcase they call a plane earlier this month, my usual white-knuckled, nervy demeanor gave way to great gladness because I would actually, finally be one of the 100 pinot noir fans from here and overseas at the 13thannual Pinot at Cloudy Bay.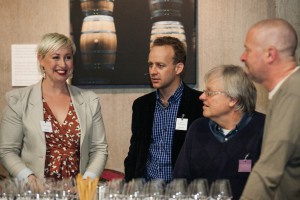 For the team at Cloudy Bay, showcasing their pinot noir alongside other examples from around the world and opening the floor to comments from anyone and everyone is both a challenge and a great benchmarking exercise.
Cloudy Bay winemaker Nick Lane chose wines from New Zealand, California, Tasmania, France and Austria, which made up three flights of 6 wines, all from the 2009 vintage.  Nick also MC'd the proceedings flanked by two large flatscreens broadcasting a live Twitter feed of the event.  I loved that fact that on one hand we'd be analyzing the finer points of cool climate pinot noir and trying to sound all expert-like and on the other hand someone would be tweeting to the world that the wine tasted 'amazeballs'.
There were some stunning wines and an education to be had; but for lively debate, discussion, controversy, constant humour and of course an absolutely sublime meal afterward– Pinot at Cloudy Bay is an event any pinot lover should attempt to get to; at least before they get pregnant…www.cloudybay.co.nz
Pinot Newer…
Two stunning new pinots have just been released and while they are pricey ($80-$85) I'm sure you can convince your accountant to list them under 'personal development' or something.  The first is Rockburn's 'The Art' Central Otago Pinot 2010, crafted from a single vineyard high on Bannockburn's slopes.  I asked winemaker Malcolm Rees-Francis about its creation.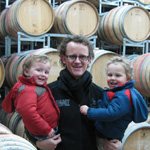 "The concept of "art" really comes into it where, say, a sculptor looks at a block or marble and sees the statue within; all they have to do is chip away at the bits that aren't the statue.  Max Gimblett has a great way of approaching a blank or unfinished canvas, he yells at it (in a very Japanese fashion) and "knows" where to place the next brushstroke.  I don't yell too much at my bins of fruit but I try and approach each tonne or so in that kind of way.
The dense core of bramble-fruit evident in The Art is something I identify as a typicité of Bannockburn Pinot Noir, and the tannins you see at the finish of the wine are far more structural and robust than anything I can find out in Pisa.  So yeah, I get to flex my winemaking muscle and make something different, a vin de terroir, and something that hews close to what I'm trying to achieve down here".  Malcolm's other achievements haven't gone unnoticed as he's just been named as one of only 10 finalists in the Wine Society of Australia Young Winemaker competition AND Rockburn collected the first Gold medal ever awarded for a Central Otago sauvignon blanc at this years NZ International Wine Show – a class dominated by Marlborough offerings.
Speaking of Marlborough offerings, the Nautilus Four Barriques Pinot Noir 2009 is only the 5th ever made and it's blended from their best four barrels of pinot (out of a possible 120 barrels) and less than one hundred cases are made.  Winemaker Clive Jones and his team have carefully coaxed into the bottle one of the most exceptional examples from Marlborough that I've tasted in recent years.  I've been a fan of Nautilus pinot for years, but this wine sidesteps the norm and (in my view anyway) epitomises what the region is capable of when excellence is the only option.
Rockburn 'The Art' Central Otago Pinot Noir 2010 $80 ★★★★★
Deep and brooding in the glass, it oozes sweet black tea, black cherry and spice while in the mouth it reveals a peacocks-tail of flavours redolent of dried herbs, succulent plum and cocoa characters. It's a masculine yet elegant wine with real finesse, tension and a smoky, seductive length.  I'd love to try this again in a couple of years.  www.rockburn.co.nz

Nautilus Four Barriques Marlborough Pinot Noir 2009 $85 ★★★★★
I love the lift of chinese 5 spice, black cherry, red rose, ripe rhubarb and charred chestnuts on the nose.  It is succulent and juicy but carries density, weight and a serious presence in the mouth.  The fruit is ripe, mature even, but edged with smoke and savoury, muscular elements.  I imagine if they ever bottle Robert Downey Jnr this is what it'd taste like. www.nautilusestate.com


Wild River Dry Pinot Gris 2011 $14.99 ★★★½
Made by Mt. Brown Vineyards in Waipara, this is a crunchy, dry white with clean pear and apple skin characters and some interesting spicy flavours and a mineral-driven finish.  Available from www.finewinedelivery.co.nz