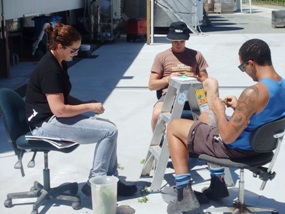 You'd expect at the end of January things out there in winery land would be all go.  With harvest just weeks away surely there'd be no end of things to do; tanks to clean, barrels to wash, equipment to sterilise and loads of general endeavour by everyone concerned.  So on a sneaky little trip to Lawson's Dry Hills recently it was a tad unnerving to see the staff sitting on their chuffs in the sun chatting, doodling in little notebooks and doing what looked like nothing for hours on end.  Someone let slip that the head winemaker (a friend of mine) was away so I jumped to the obvious conclusion that these young things were slacking.  I ventured outside to just, I don't know, loom over them like some sort of school-maam, quasi boss-type person, but on closer inspection I realised I'd been worrying about nothing.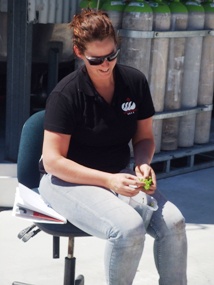 "We're just looking at crop predictions for the 2012 harvest" says Beth Forrest.  Beth and her two colleagues Christopher (Gibby) Gibb and Simi Vulavula were enduring the arduous task of counting their way through thousands of tiny, green berries on hundreds of tiny, green bunches picked and sitting in containers at their feet.    "We have to do this because we had a pretty cool flowering and fruit set last year (and by 'cool' she doesn't mean in a good way) in our sauvignon blanc. We're trying to find out what crop levels we've got out there in the vineyard so we can predict what we'll need in terms of tank space and also to find out whether we need to get hold of any more fruit to meet our production needs" she adds. "There's approximately 260 bunches per sample so I think we've counted at least 160,000 berries in the last three days" she sighs while Gibby and Simi nod forlornly.
No wonder the head winemaker decided not to be here this week. Some bunches have nice, consistently sized berries, others are riddled with what's known as 'Hen and Chicken' or millerandage as the French say.  The Hens are the normal sized berries while the chickens are the small, hard berries which won't ripen properly.  This is usually caused by cold, wet weather during the crucial time when the vines are flowering (but sometimes it can be caused by nutritional deficiencies) and it results in a mixture of normal-sized and woefully undersized fruit all growing in the one bunch cluster.   The unseasonably cool weather caused uneven fruit set among sauvignon blanc vines right across Marlborough and may end up pushing the harvest time out by a number of weeks.
The berries on these bunches will ripen at different times creating a real harvest headache for the winemakers as the sugar and acid content between the large and small berries will be vastly different.  Depending on the variety however, a little bit of Hen and Chicken can add real zing and complexity to the wine.  "It's not necessarily a bad thing for Sauvignon" says Dr John Forrest walking through his undulating Wairau Valley vineyard, "the smaller number of grapes in each bunch means smaller yields and higher fruit quality which is what we need here in Marlborough.  Plus you'll see how the clusters are quite loose, with big gaps between the grapes – that means there's greater air circulation around the fruit, lessening the risk of rot and disease".
Just days after my visit, the freak weather returned, with wind machines being switched on in the Waihopai Valley as the temperature dropped to almost zero.  The Marlborough Express newspaper reported Stu Powell of Climate Consulting saying that in some areas temperatures were the coldest recorded for January for many years.  Normally frost risk doesn't become an issue in Marlborough until mid to late March, however if frosts had actually occurred in January, the leaves on the vines would've been burned, making photosynthesis impossible and leaving bare canes unable to push sugar into the grapes.  That would spell absolute disaster for the wine industry as Marlborough is New Zealand's largest wine region.
"It would be like kicking a power point out of the wall. Everything stops." Said Powell to the Marlborough Express.
Borsao Garnacha 2009 $21

A saucy Spanish red from Aragon's Campo de Borja subregion, it is a blend of 85 percent Garnacha (Grenache) and 25 percent Tempranillo with layers of dried herbs, plum, tea leaf, coffee bean and red rose notes.  Superb with anything chargrilled, this wine has warming, spicy smoke and cocoa characters on the finish too.  For stockists near you email farran@vintnersnz.co.nz

Framingham F-Series Montepulciano Rosato 2011 $25

Definitely one of the best rosés I've tried in the last twelve months.  Vibrant bright crimson colour with gorgeous creaming soda, raspberry and rhubarb aromas, this pretty-in-pink wine also boasts juicy, succulent berry flavours on the finish.  Satisfying, refreshing and rewarding no matter what time of year you drink it.  www.framingham.co.nz

Weaver Estate Central Otago Pinot Noir 2009 $36

I am loving this debut pinot from this shiny-new, Alexandra-based family estate.  It is intensely perfumed with cherry, boysenberry, violet, black tea and sandalwood.  Silky and slippery in the mouth, it has delicious, spicy warmth, superb depth and delicious length of flavour.  While there's a good few years left in this wine I can't wait to see what they do next.  For information on how to buy email jess@weaverwines.co.nz

Speights Apple Cider 330ml $16x6pk
Great stuff!  This is one of my favourite summertime sips because it smells and tastes like a cross between braeburn and cox's orange apples, tart, tangy and boasting a clean, clinging texture.  It also has great length of flavour – in fact it's so good it's hard to believe it's a commercial release.  Widely available.
Hāhā Marlborough Sauvignon Blanc 2011 $15

Sourced from fruit grown in the Wairau Valley, this newcomer has classic passionfruit, citrus and herbaceous aromas which ooze through onto the palate.  Not too sharp, the acidity is spritzy and beautifully balanced while the palate is full, rich and fruit-driven. Nicely made.
For more information contact Ashton Ireland on (06) 833-7859 or visit www.hahawine.com
Three Boys Brewery 'Tres Amigos' 330ml 5%alc
I know I shouldn't say this but the packaging had me hooked.  Three little stickmen one in a sombrero, one in a huge moustache and one in a poncho holding hands and looking happy sit above some guff written in Mexican which I think told me to drink this after mowing the lawns with some lemon down the spout.  I followed their advice and loved it.  Not exactly a blockbuster, it's more of a crisp, quenching ale with nice citrus, nutty and bitter flavours – now all I need is some nachos.  For stockists visit www.threeboysbrewery.co.nz