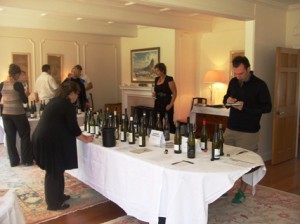 view pdf of newspaper article…
"Are you going to ask me about politics and religion?" asks goatee-bearded New York-based bar owner, riesling aficionado and founder of the 'Summer of Riesling' concept Paul Grieco.  God no, I thought.  Having just sipped and spat my way through 67 rieslings from around the country at Tipapa Homestead in North Canterbury's Greta Valley, I was more in the mood for happy chat.  SOR is a worldwide movement encouraging the consumption, discussion and enjoyment of riesling and it arrived in New Zealand on January 12.
Supported by 39 wineries, restaurants, wine bars and retailers; it's an idea that began with Grieco risking customer revolt by only offering riesling by the glass as the white wine pour in his tiny, 24 seat bar Terroir back in 2008.  But the idea took off, hardly surprising as riesling flavours run right across the spectrum from lean, bony and dry to unctuously sweet and luscious – so there was always something for every taste.  His bold move took hold and other establishments around NYC began highlighting riesling on their lists too, now, along with events and specialist tastings the movement is now international with Australia hosting its second SOR this year.
So I asked him about some of the things kiwi producers could improve on.  "I've only been here for three days!" he laughs.  "In broad terms I would say the perception of New Zealand wine, certainly in the US may be limited to sauvignon blanc.  I think Central Otago is doing a phenomenal job marketing its region and strengths with pinot noir, but no one talks about the other varieties you grow. However sauvignon blanc's day may have slightly passed" he says.  "There used to be a time when people would walk into my bar and before they'd even opened the wine list they'd ask "do you have any New Zealand sauvignon blanc's?  But that's on the way out and the popularity of riesling is on the increase for a variety of reasons and that's where I think New Zealand's examples can make a real impression.
The New Zealand style is predominantly 'drier' and people, rightly or wrongly, prefer a drier style of wine.  I think getting the message out about the unique regional differences when it comes to growing riesling is a good way to go.  Beyond that I think New Zealand should be pretty damn happy about how the consumers, at least in America, perceive their wines.  You've got 'value' you've got 'quality' and you really can't ask for more than that."  The key to building rieslings' popularity  according to Grieco, is getting people to taste, taste and taste again until they find a style they like.  Many producers are now printing a 'sweetness' scale on their back labels to help people choose the right bottle.
I ask if he'd found any firm favourites but he's reluctant to single anyone out until I remind him that he'll be back in the states and well out of harms way before this column goes to print.  "You know what I'm sort of shocked by?" he questions. "I haven't had a single sauvignon blanc since I arrived.  I thought I'd walk off the plane and be handed a bottle by waiting sauvignon ambassadors".  I told him that they've only just stopped hosing people down with the stuff when they arrive at Blenheim airport.
"The rieslings that have really impressed me are dry but have a tweak of sweetness and alcohol levels in the 13-14% range" he said.  "Some rieslings are too lean, too precise and they've lost a degree of joy.  Wine should be 'yummy' at the end of the day".  Grabbing his notebook he adds "the wine that knocked my socks off first was by Black Estate; their 2010 hit all the high notes.  I'm still guilty of comparing everyone to the old world and how they stack up against Germany, Austria and Alsace.  Black Estate had the perfect marriage of Wachau and Kremstal; I was totally awed by that wine".
"In today's tasting I loved the Nga Waka and Te Kairanga from Martinborough, both were of that mineral-driven, precise style but they had power and length in spades.  It was like taking a rock and just running it across your tongue; tasting them was exhilarating.  The Redoubt Hill from Nelson kicked ass (which sounded cool in his East Village accent), it was like a mouthful of crunchy stones and lime.  Getting bigger and rounder, the Fromm Winery 2009 Spatlese from Marlborough is a cranky little wine (cranky?) From Central Otago I preferred the juicy, tangy wines like the Rockburn Tigermoth 2011.  40grams per litre of residual sugar on paper would scare the crap out of most purists, and yet with its blazing acidity, this wine is sweet, literally and philosophically" he said.  The Auburn 2011 from Bendigo also impressed.  "From Waipara I loved the Mount Beautiful, Bishop's Head and Weka River – all great, and beautifully balanced."  In terms of super-sweet, dessert-style rieslings, Grieco raved about the Framingham Trockenbeerenauslese 2011 "I just want to get into a bathtub of that stuff."
"The diversity of styles I've seen in New Zealand so far is totally exhilarating (he likes that word) and it's still relatively young in the scheme of things" he says.  So if riesling was a band who would they be?  "Depeche Mode" he says with absolute conviction, "Depeche Mode when they did their first album.  It was bright, danceable, perfect pop music".  He pauses to quote a famous lyric, "Riesling is my own personal Jesus".
RAVISHING RIESLINGS
Villa Maria Reserve Marlborough Riesling 2010 $26

A lipsmackingly lean, clean riesling that has lovely citrus and mineral characters and a really impressive, textural mouthfeel.  It's fabulous and absolutely rocks with black pepper king prawns slathered in garlic and chilli.  www.villamaria.co.nz
Fromm Winery Marlborough Spatlese Riesling 2009 $32

With soft, subtle aromas of wet stones, pear and rose apple, prepare yourself for a mouthful of crunchy-fresh citrus, strudel spices and tangy heritage apple flavours.   If you're looking for a fabulous example of refreshingly crisp riesling with a splash of sweetness and an awesome, enduring finish then this is it.  www.frommwinery.co.nz
Rockburn Wines 'Tigermoth' Central Otago Riesling 2011 $27

Wow.  Where to start?  Is it the gorgeous, lifted floral, mineral and citrus-driven aromatics.  Or maybe the intense honeysuckle, lime and juicy nectarine notes in the mouth.  It could definitely be the stunning line of acidity that sews all of these elements together seamlessly.   Whatever it is, I'm now totally in its grip and it won't let me go.  www.rockburn.co.nz
Terrace Edge Waipara Riesling 2010 $19

White peach, lemon peel and fresh floral aromas lead to an ultra-clean, bracingly fresh mouthfeel that smacks of citrus and lime-laden loveliness.  The finish is sorbet-like, crisp and lengthy, it's truly superb stuff and it's quite unbelievable that it costs less than twenty dollars.  www.terraceedge.co.nz