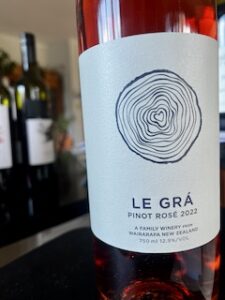 Le Grá Wairarapa Pinot Rosé 2022 $38

A refreshingly spritzy style of rosé that roars with watermelon, crabapple and succulent salinity. Crunchy-crisp and mineral-drenched, it's laced with soft herb and rhubarb notes and has a long, zesty finish. Nice work from one of Wairarapa's smallest wineries.
(Extra for Experts) Look out for some interesting new bits and bobs from Nicky and Brian Geary too, like a possible Amarone-style merlot using the cut-cane method – which I for one am very excited about!!