I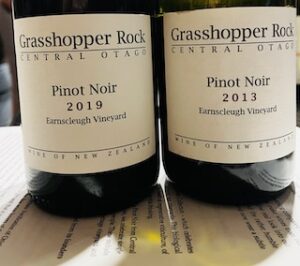 t was a real treat to taste a mini-vertical of a pinot noir that I've been a fan of for many years. Phil Handford from Grasshopper Rock sent me a bottle each of his 2013 and 2019 for comparison (and fun) and it was super interesting seeing how an extra six years vine age, tiny tweaks to the time on skins and time in oak and two very different vintages, (2013 warm, 2019 frosty, wet and cool) had on the flavours of the wines. Interesting that 2013 had lower alcohol (13%) than the 2019 (14%) also. The vineyard itself was planted in a mix of clones 667, 777, 115, Abel, 5 & 114 back in 2003 in the Earnscleugh region in Alexandra, Central Otago  A place that bakes in summer and freezes in winter and is one of the world's southernmost wine regions.
Grasshopper Rock Earnscleugh Vineyard Pinot Noir 2013 ($50)

Ten years in bottle has bought about that classic transformation of colour where the bright garnet red tones of youth turn deliciously bricky and earthy. Aromatically its leading into wild thyme and roasting pan juices, while the palate is plump with fresh, gamey complexity, Christmas pudding spices and boasts a long, toasty, smoke-laced finish. Solid acidity has carried this wine very nicely into its second decade and its best to drink now.
Fermented in stainless steel (inoculated yeast) before 10 months in French oak, 30% new 13% alc and harvested 22-25 April 2013.
Grasshopper Rock Earnscleugh Vineyard Pinot Noir 2019 ($42)

Glossy dark cherry colour and buckets of dark cherry aromatics burst forth on the nose, hints of cocoa and dried herb notes then wrap around a core of black tea and rhubarb. It's a complex, multilayered wine that's fresh and energetic and destined for the long haul. Even though it's 14% alcohol, it feels balanced and lithe.
Fermented in stainless steel (combo of wild and inoculated yeast) before 10 months in French oak, 28% new, 14% alc and harvested 5-12 April 2019