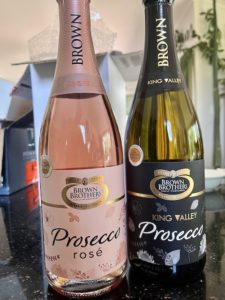 Brown Brothers King Valley Prosecco $15

If you're looking for a vibrant, apple and lemon-layered sparkler with a splash of sweetness and a pang of pear drop on the finish, then here's your thing Chandler Bing. Clean, floral and feisty – it has a zippy, refreshing texture that'll please even the most jaded crowds.
Brown Brothers Prosecco Rosé $15

Crafted from glera grapes and a smidge of cienna (a red grape) juice (injected to give the wine its pink, blushy colour), this wine is classically crisp, textural and taut. The mouthfeel is rich, with a hint of sweetness in the mid-palate and yet the finish is surprisingly dry. Dry and very lengthy. This wine is a dark horse that reveals itself to be more complex with every sip.
Widely available in supermarkets Brown Brothers