Prophet's Rock Central Otago Pinot Gris 2021 $35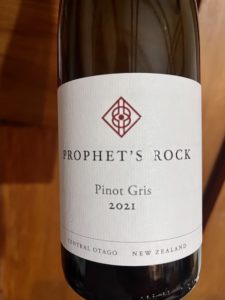 Winemaker Paul Pujol has once again created an absolutely stunning pinot gris from fruit grown in the 'schist-happens' clay and chalk soils of their Rocky Point and Home vineyard in Bendigo, on some of the steepest slopes in the region. Fermented using wild, indigenous yeasts and matured on its yeast lees, it has incredible freshness and purity, yet has a deep, creamy, nutty, smouldering complexity on the finish. Nashi, quince, Golden Delicious apples, macadamia nuts, and hints of strudel spice and warm pastry make this absolutely glorious to gulp.
Sip with: parsnip and apple soup.