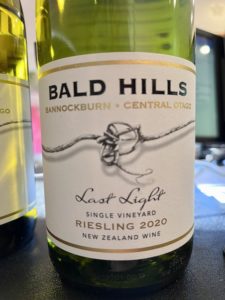 Bald Hills Last Light Central Otago Riesling 2020 $30

Paired with Annabel Langbein's Kedgeree in NZ Herald Canvas Aug 20 2022.
If Pete Bartle ever makes a riesling that isn't exceptionally balanced and beautiful, then stick a fork in me, 'cos I'm done. Sourced from Bald Hills' Bannockburn site, the single hectare of vines that produced this stunner are planted specifically to soak up the last rays of the late-afternoon sun. The cool, crunchy-crisp nights then capture racy acidity and intensify the flavours of mandarin, lime, creamed clover honey, and ambrosia apples that end up in this wine. It's pure, cleansing, gum-tingling textures and lemonade layers on the finish work stunningly well with the smoked fish and curry characters of Kedgeree.