Te Mata Estate Hawke's Bay Coleraine 2020 $130

2020 heralds the 36th release of New Zealand's most famous red wine and the one that the Buck family are calling "the best in Te Mata's history".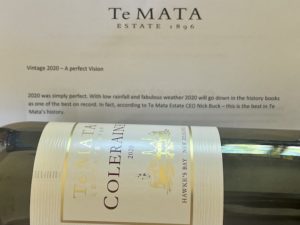 CEO Nick Buck said 2020 was "Simply perfect" and with tiny berries, alongside massive extract and tension, Te Mata's winemaker Phil Brodie has described the new Coleraine as being "Obsidian dark" with "a rapid symmetry of wild roses, cedar, dark fruit, cocoa and thyme, with layers of fine tannins polished to a mirror finish, it's a window on midnight and an immense wine of clarity, concentration and focus".
I've been extremely fortunate to taste it already and I agree with Phil 100%. Adding only that it has a lick of leather, a soothing, suede-like texture and showstopping length of flavour. I can't overstate how monumentally excellent 2020 is. Sublime doesn't do it justice, but flawless and spellbinding come close. It will sell out within seconds of hitting the shelves if indeed it even makes it that far.
121 years ago Te Mata Estate planted Cabernet vines in Hawke's Bay's Havelock Hills and Coleraine was first produced in 1982. It's now considered one of the most desirable red wines from the Southern Hemisphere. If you're a Coleraine collector, it's a must-have. If you're new to Coleraine investment, there's no better time to start. It's the wine that made history and broke records recently with a thirty-two vintage collection fetching an eye-watering $19,000 at auction – almost $600 per bottle!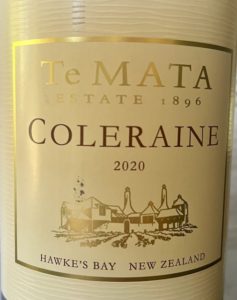 Named after the town in Northern Ireland where owner John Buck's grandfather was born, each bottle of this 57% cabernet sauvignon, 36% merlot and 7% cabernet franc blend comes individually wrapped in branded, vintage-dated tissue and presented in swanky Coleraine branded, wooden six-pack cases (when bought in six-bottle lots) and will comfortably sit in your cellar for 20 years.
Secure your piece of wine history from March 1st 2022
Tasted Friday 28th Jan 2022