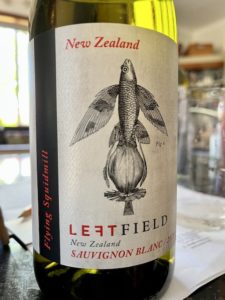 Leftfield New Zealand Sauvignon Blanc 2020 $16

Crafted from a blend of grapes sourced from Nelson, Marlborough and Hawke's Bay, this snappy, crunchy-crisp, magical mixed-breed of a sauvignon roars with so much flavour it's like rolling maul of lemongrass, lime zest, punchy passionfruit and nectarine stacked niceness in every sip. Hefty herbaceousness and marathon length of flavour make it unputdownable. The label has a 'flying squidmill' on it, but ignore that, because your attention needs to be on how salubriously excellent the wine is with green pea, salmon and spinach frittata. Incredible value for money.
Available in supermarkets and wine stores NZ wide.