Canvas Drinks matches Sept 11th 2021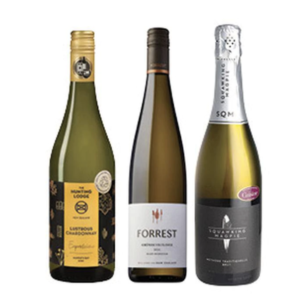 Frittata muffins
Now I know Annabel says these frittata muffins are a great way to get veg into kids, but they're also a great way to get the Hunting Lodge Expressions Hawke's Bay Chardonnay 2020 ($23.99) into grownups. The sweetness of the kumara, cheesiness of the cheese and a handful of salty bacon or ham is all sorts of niceness with the roast nectarine, perky pineapple and toasty, nutty notes in this wine. Gloriously golden and dangerously drinkable.
Twice baked feta and spinach souffle
Stop, drop and roll immediately to your keyboard and order the Forrest Marlborough Grüner Veltliner 2021 ($28) to serve with these souffle's. It perfectly suits the delicacy of the feta nd spinach. This classic Austrian grape has clearly found a happy home with the good folk at Forrest. Perfumed with apple blossom, lemon pith, peach and pepper and packed with refreshing nashi and lime and laced with elderflower, it's a cleansing, textural, deliciously dry wine with exceptional length of flavour.
Green Shakshuka Eggs
Hands down, this is one of the best brunchy dishes around, better still because it fangs with good fizz like the Squawking Magpie SQM Hawke's Bay Brut Methode NV ($27.99) Famed far and wide for ribsticking reds and chompy chardonnays, when the Squawking Magpie team's talents are turned to crafting delicate sparkling styles, magic doth occur.  With lifted lemon, cashew, and brioche aromas, this classic blend of chardonnay and pinot noir also boasts complex red apple and toasty almond notes on the palate.  The crisp texture and mouthfilling finish make it drool-inducing with these herby eggy treats.