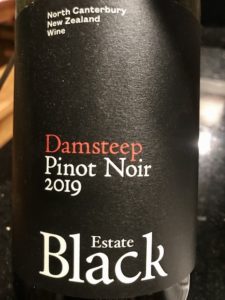 Black Estate Damsteep North Canterbury Pinot Noir 2019 $52 

Floral floral floral! Crafted from fruit grown in the organic, biodynamically-managed Damsteep vineyard which was established back in 1999 on a patch of sandstone and limestone loveliness in North Canterbury. Winemaker Nicholas Brown opts to kickstart the ferment using the yeasts present in the vineyard canopy and that contributes to its unique, wildly woolly, dried herb, leathery, smoky sensations on the nose and mouth.
Full, juicy, cuddly length of flavour.