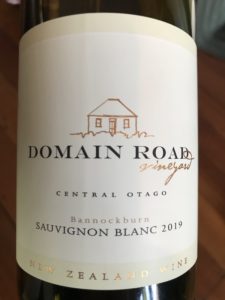 Domain Road Central Otago Sauvignon Blanc 2019 $23

Central Otago has well and truly proven that Marlborough is not always the centre of the sauvignon blanc universe, meaning I'm well-chuffed to be able to bring you this absolute banger from Bannockburn.
Planted in three locations, Templars Hill, Doctor's Flat and on a corner of their Defiance vineyard, owner Graeme Crosbie has set his sights on southern sauvignon domination. Get ready and steady yourself for lime, lemon, elderflower, stonefruit, frisky florals, and rain-on-hot-rocks minerality — plus as soon as you sip, you'll feel the acid in your nose hairs and an awakening in your nethers.  Plus, when you experience trauma (like my husband does when he drops the can of shaving foam in the shower and the nozzle breaks and his face is only half-done, or when every paper towel I rip off the roll still leaves a long, unperforated stringy bit at the bottom), it's good to know that a glass of this soft, lemongrassy, passionfruity perfection awaits. It'll soothe, refresh, and distract you from those evil, scream-inducing first-world problems designed to send us sideways. Sip as you sneak fish fingers off your kids' plates.