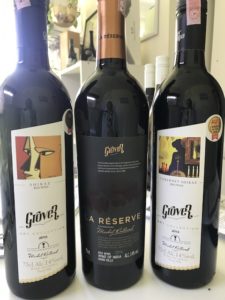 If I had a dollar for every time someone asked me if there were any decent wines coming out of India that were available in New Zealand, I'd be off down the TAB and putting a hundred for the win by the long shot on the next 3200m at Matamata. Happily the good folk at www.fineowine.co.nz are now importing wine from Grover Zampa, an Indian wine producer located in Doddaballapura, in the region of Karnataka on the west coast of the nation. I can't claim to know very much about wine production in India, only that an old friend of mine named Jennifer Bound, a graduate of EIT's Wine Science programme used to make wine there and they were really good. I'm really hoping, once international travel becomes a safe and happy place again, to check out wineries in Nashik, Nandi Hills, Solapur and Charosa.  Grover Vineyards is situated in the Nandi Hills and is one of the oldest wineries in the country.  Very early on, they began working closely with internationally famous (and some would argue, very controversial) French wine consultant Michel Rolland, to create a signature style with international appeal. They're now renowned for producing high-quality cabernet sauvignon and shiraz and FINALLY they're here for kiwi wine lovers to get amongst. They're definitely different and have their own personality and palate presence, but I was rather impressed with how elegant they were.
Grover Zampa Art Collection Art Collection Cabernet Shiraz 2018 $24.99

With a label designed by Sanjay Bhattacharya a famous artist from the Bengal School, this deep, inky red shows lifted peppercorn and dark cherry bolstered by blueberry and a seriously early mid-palate. The shiraz element has it's pepper presence, while the cabernet is leaning toward the bay and blueberry spectrum. It's very smooth, velvety and seriously savoury to sip.
Grover Zampa Art Collection Shiraz 2018 $16.99

Woah Nelly!  If you're a fan of the peppery perkiness that shiraz often offers, then strap yourself in because this bad boy has it in spades. It's got that ro
asting pan sticky-bits savouriness, charred, smoky notes and graphite, black olive characters on the finish. Smooth, easy and seriously sippable.
Grover Zampa La Reserve 2016 $21.99

This is a serioulsy sippable blend of cabernet sauvignon and shiraz and what makes it different from their Art Series blend, is that it carries a tonne more dark fruit upfront, with the pepper notes from the shiraz just quietly sit in the background and wrap themselves around the back palate with every sip. The tannins are elastic and elegant and I really really like this wine and think it's superb value for money.