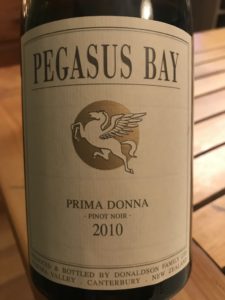 Pegasus Bay Prima Donna Waipara Pinot Noir 2010 $120

Ivan Donaldson planted the first vineyard in Canterbury back in 1976, ten years later, together with his wife Christine, he established Pegasus Bay.  Today all four of their sons and two spouses are all involved in the business and it's fair rocketing along.  Prima Donna is their flagship pinot noir, and it's one of the wines they've chosen to include in their 'aged release' programme.  Opening it ten years on from release is a real treat.  Complex florals erupt from the glass, alongside deep pomegranate, plum and baked cherry layers which all osmose onto the palate.  The fruit depth has moved from bright berries a decade ago, into deeper, leather-licked flavours which combine with earthy spices, fresh acidity and buoyant tannins.
The length of flavour is seriously impressive and I feel this wine has a good 5-10 years left to live dangerously.