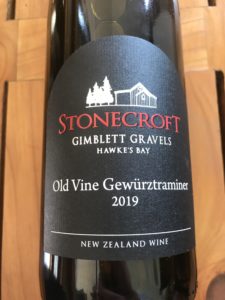 Stonecroft Old Vine Gimblett Gravels Gewürztraminer 2019 $45

So I have no idea what religion you follow but I'm like, if you love the sun, or the soft or howling rain, or the laughter of children, or the ability to buy fruit, meat and vegetables, or the satisfaction of picking up a worm off the footpath and putting it in some dirt then you are my kin. If you love it when your pet eats all the food you put out for them or if you remember the times when your baby drained everything in your left breast then this is the wine for you.  There are a handful of Hawke's Bay wines that I consider worthy of a cellar door pilgrimage each year, and this is one of them. The Old Vine has such impeccable pedigree and power and luxuriosity (new word) that I believe no gewürztraminer cellar can be complete without it. The new vintage stands apart in its incredible balance, and there's a citrus element that backs up the ginger and lychee layers. A dusting of white pepper adds aromatic oomph. Chicken larb? Lovely! Drink now through 2029.
Chicken larb? Lovely!