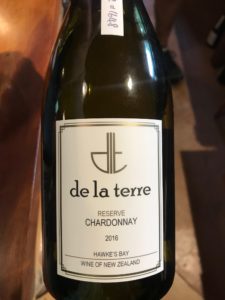 de la terre Reserve Hawke's Bay Chardonnay 2016 $40


Ex- Church Road winemaker Tony Prichard has sourced the fruit for this beautifully balanced blockbuster from his tiny, Hill Country Estate vineyard, up on Te Mata Peak. The super-ripe, ultra-clean grapes were 100% handpicked and 100% barrel fermented with a mixture of wild and inoculated yeasts in 50% new French oak and 50% of it was put through malolactic fermentation (to add creamy complexity) accentuated by daily bâtonnage (or lees-stirring) for 11 months, the whole time in barrel. It's a food-style chardonnay, rich, mealy, showing savoury notes, not too oaky, not too creamy. He uses hyperoxidation which helps to slow down the ageing effect, which is why at 3 years old, it still tastes incredibly perky and pristine, fresh and sexy and shows solid length of flavour.
"I love hands-on winemaking and it's one of the things that differentiates us from the big guys," Tony says.