If I had a dollar for every time someone said to me, when quizzed on their thoughts about a wine, "I dunno, I'm useless at wine tasting, it's kind of just winey", then I'd probably have enough for a night on the town.   Now I'm the first to admit that I tend to go overboard occasionally on the adjectives in my reviews, but having said that, I think it's a useful thing to be able to describe smells, flavours and textures in wine.  How else are you going to know whether or not you actually like certain characteristics in a wine?  You've got to be able to describe and define them first, just like you'd describe the things you like about a person or a band or piece of art.  Once you've defined a wine, you'll then be able to identify those same characteristics in other wines and learn more about what types of wines will float your boat in future.
People tend to be hard on themselves when it comes to their ability to talk about wine, bemoaning their lack of vino vocabulary, like it was some sort of embarrassing illness.  If you're one of these people, fret not.  Take consolation in the fact that you're never going to be able to verbalise a smell or a taste of something you've never smelled or tasted before.  Your ability to say what you're smelling and tasting is linked to memory.  So if the back label of the bottle says "this wine is redolent of redcurrant and gooseberry" and you've never tasted redcurrants or gooseberries before – then there's no way in hell you're going to be able to identify them.  Instead, try to find the characters that are relevant to you.  The absolute best way to get better at 'wine talk' is to smell and taste absolutely everything you can.  Have a big old sniff of all those spices in your spice drawer.  Pick up and sniff every different type of fruit you can find at the supermarket.  Sniff all the flowers in your garden.  Smash a couple of rocks together and sniff them to reacquaint yourself with 'flinty'.  The smell in the air when rain falls onto asphalt or dry earth is called 'petrichor' – remember to open the car window and breath it in the next time there's a shower.  I find it in some sauvignons and cabernets.   There's also a great tool designed by Professor Ann Noble, a sensory scientist at the University of California, that I use a lot when I'm stuck for words.  It's called the 'Aroma Wheel'.  It has a centre ring with common characteristics like 'floral' or 'fruity', which then fan out to categories like 'citrus', 'berry', 'tree fruit', 'tropical fruit', 'dried or cooked fruit', and then they are broken into more exacting descriptors like 'grapefruit', 'lemon', 'blackberry' or 'banana'.  So, it's a brilliant way to hone your ability to wax on about wine by simply breaking down some general impressions, into specifics.  Have a sniff of your wine, let's say it's an older riesling.  You might think it smells 'chemically'.  Is that like Sulphur or petrol or more pungent? Petrol?  Ok, then is it more on the plastic, tar or kerosene spectrum?  Kerosene it is.  And that, dear readers, is a classic character of aging riesling.  So instead of saying "this wine smells chemically', you can impress your friends by announcing "There's a slight kerosene aroma in this wine which I really like".   You can reference the wheel online or buy your own at  www.winearomawheel.com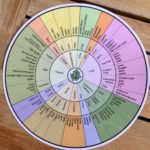 …………………………………………………………………………………………………………………………………………
Delta Marlborough Sauvignon Blanc 2016 $22 (4.5 stars)
With its sweet pea, lemon and passionfruit aromas, this snappy sauvignon follows up with a softly fruited, tang-fest on the tongue. Made by star wine consultant Matt Thomson and sourced from a single vineyard in the Dillons Point sub-region – this sauvignon has herbaceousness, classic red capsicum and jalapeno characters and serious sippability.
For info on how to buy visit www.deltawines.co.nz
Clark Estate Marlborough Noble Pinot Gris 2013 375ml $13.50 (5 stars)
Very sexy and golden in the glass, with a glossy yellow diamond colour, there's an instant "I want that now!" desire as soon as you see it poured.  Aromas of honey, beeswax and musk lead to roast quince, peach and pear on the palate.  The acidity is refreshing and balances out the intense natural sweetness in this luscious, luxurious wine.  The price on www.clarkestate.com is ridiculously cheap.
………………………………………………………………………………………………………………
Dunleavy The Grafter Waiheke Island Syrah 2014 $45.90 (4.5 stars)
Brothers Paul, John and Mike Dunleavy are at the helm of the company alongside their father Terry Dunleavy MBE – this family have championed island syrah since the get-go. If there was a 'Waiheke's Got Talent' contest, I'd DEFINITELY text in my vote for syrah. Aged for 12 months in smoky French oak, this syrah has violet-forward florals, hulking fruit intensity, layers of Asian spices and a lick of cracked pepper.  Sip with sizzling venison burgers and smoked tomato relish.
El Quintanal Tempranillo 2014 $19.95 (3.5 stars)
Packed to the cork with ripe red berries, comforting christmas cake spices, caramelised, truffle-like earthiness, hints of vanilla and even a squeak of liquorice manages to snuggle in there too.  Here's a deeply warming, comforting wine from Spain's Ribera del Duero region, which works deliciously well with chicken and sweet capsicum stirfry.
Prunotto Fiulot Barbera D'Asti 2014 $23.99 (4 stars)
Made by Marchesi Antinori, this smooth, soft, pillowy red from Italy's Piedmonte region is one of those easy reds that may even convert the most hardened 'I only drink whites' wine lover. Grown in calcerous marl soils of the Costamiole vineyard in the town of Agliano, the Barbera grapes ripen to create sweet, savoury berry flavours, fresh acidity and earthy layers on the lengthy finish. Definitely a wine to savour over lamb and rosemary sausages.