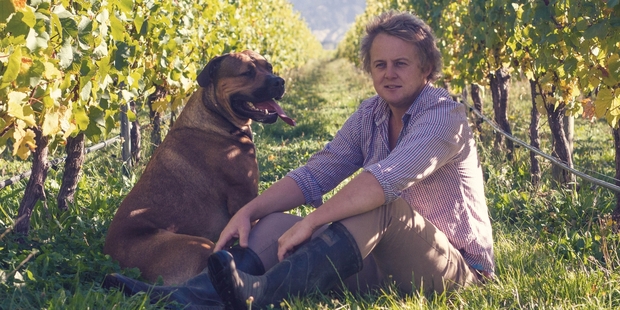 Brad Tiller and his dog, Rhombus.
It was a Wednesday, what was I thinking? "Come out for dinner with us," said my friend Michael. "Brad Tiller from Isabel Vineyard is bringing a bunch of his wines over and the team at Cook 'n' With Gas on Worcester Boulevard has designed a menu to match. It'll be a relaxed, fun, but quiet night."
Fast forward to a freezing Thursday morning and I'm lying in bed wearing my son's dinosaur-costume onesie and doing my best to gnaw through a pie. I need to line my stomach with something stodgy because I am, for the first time in forever, so hungover it hurts to even breathe. I am furious with myself. What happened? Why did I suddenly throw the moderation message in the boring drawer and make a complete womble of myself on a Wednesday night?
I'm also wondering how on earth my favourite pot plant stand got snapped in half and why there are seven pieces of half-eaten toast scattered around the bedroom floor. Next to the toast is a pile of my clothes: Next to the toast is a pile of my clothes, which look like they were ripped from my body in some sort of judo-like grappling tournament.  The sleeves of my blazer are stuck down the legs of my jeans alongside my socks and undies and one cup of my bra is bunched up inside a pocket.
I remember arm-wrestling. The beer-stained patch on the elbow of said blazer confirms this. I also remember drinking things that were on fire. Shots of flaming liquid with people I had only just met, people who, like me, were grownups with responsibilities and should know better.
The evening began innocently enough, listening to Brad Tiller talk to a group of wine trade types about Isabel Vineyard. Brad is the son of Robyn and Michael Tiller, who established Isabel in 1980 on Hawkesbury Rd in the heart of Marlborough's Wairau Valley. And 2014 represents 30 vintages for his family, although they're still very much a brand that, until now, has flown under the radar. Their four children all now work in the business and Brad has moved on from managing the vineyard to become their brand ambassador "which is short for glorified sales rep", he laughs. For the past three decades the Tillers have quietly beavered away at choosing which varieties are most suited to their soils and securing valuable overseas contracts. "We are very much an export-focused brand, that was always my parents' intention – but now we've decided it's time to give the New Zealand market much more love," he says.
The estate is named after Brad's grandmother, Isabel Jean Pearson, who used to hound her son Michael, a commercial pilot, to do something more with his life. She could see the huge potential for wine in Marlborough. "Stop playing with planes and get yourself a vineyard," she would say. "It's going to be one hell of an industry."
When Michael used to fly his Argosy to Marlborough, he'd fly around the region on reconnaissance for suitable land for growing grapes.
When the Hawkesbury Rd property was established, chardonnay and pinot noir were the first grapes to go in the ground. Michael researched how grapes were planted in Burgundy: close together and in narrow rows to control vigour. This philosophy went against the Kiwi farming instinct of maximising crop loads and yields – but it had an impact on the quality of the fruit.
In 1992, Michael got hold of rather special pinot material to plant. "From what we've always been told, it started sometime in the 1970s when a cheeky Kiwi backpacker jumped over the wall at La Tache vineyard in Burgundy," explains Brad. "He grabbed a cutting, took it back to his campervan, cut off a few buds, wrapped them in wet toilet paper and stuffed them in the bottom of his gumboots. When he got to Customs in New Zealand the Customs officer asked to check the bottom of his boots for mud, as he'd declared that he had been on a farm. When his boots were turned upside down all the buds fell on the floor. He confessed to the Customs officer the significance of the buds and where they'd come from. That Customs officer was called Malcolm Abel, a wine enthusiast himself. Abel took possession of the cuttings."
Abel sent them to the state-owned viticulture research station, and when cuttings where available, planted them. "Some of the vines were then passed on to a nursery where they were grown commercially. The first order of 5000 cuttings was cancelled … so the nursery owner called up Dad and asked him if was keen to buy them. "Dad planted those vines and they have been part of the Isabel pinot noir ever since. We refer to it as the DRC Abel clone."
It's a good story, and although the food matches were really interesting, the wines were the heroes of the night. One thing that struck me about them was that as people at our table sipped, they all seemed to utter the same comments – comments that revolved around "texture". There was something memorable about the mouthfeel of each of them, and their persistence of flavour was impressive. It was clear, after the first few sips, that these weren't just any old Marlborough wines.
And maybe it was the cosiness of the restaurant, Brad's storytelling, the joy of meeting new and interesting people, the joviality of the company – I'm not sure. But after my notebook was put away my wheels fell off in spectacular fashion.
Isabel Vineyard Marlborough Sauvignon Blanc 2013 $24 ★★★★
A highly complex wine oozing white peach and watercress and showing hints of fennel and wet stone, it's a softer style of sauvignon.  The acidity is crisp and clean and there's a layer of fresh herbal character in its core.  The texture of the wine is juicy and mouthwatering, making it a winning match with smoked seafood.  "It's romantically uneconomical to produce," says Brad Tiller  "but we just love it".  www.glengarrywines.co.nz
Isabel Vineyard Marlborough Pinot Noir 2011 $35 ★★★★★
Ten different clones (including their 'DRC Abel' clone) have been used in the creation of this stunning pinot noir.  It boasts gorgeous aromas of baked cherries, dusty old books, pot pourri and exotic spices.  It tastes of wild, smoke-infused hedgerow fruit and has a velvety, juicy mouthfeel.  It's one of those pinots that has powerful presence and personality, and while drinking beautifully now, it'll reward another couple of years in the cellar.  www.glengarrywines.co.nz