When it comes to popular wine varieties cabernet franc is the bridesmaid of the Bordeaux family.  Essential in that everyone expects it to be there, (to make  up the numbers and keep the feng shui of all the flavours in balance) but it never seems to be singled out for  much attention.  I absolutely love the stuff and if I see a bottle of 100% cabernet franc on the shelf or on a wine list, I'm sold.  It's the aromatic amazingness that wows me every time; dark berries, cherries, violets, herbs and all manner of exotic spices often combine with tobacco, cocoa and fruit-wood smoke.  But even with all that talent it's not a showy wine, which is why it tends to be overshadowed by its offspring cabernet sauvignon.  That's right, thanks to the science of DNA fingerprinting scientists have established that long ago, in a forest far, far away, Cabernet Franc and the white grape Sauvignon Blanc had some sexy time and produced the grape we now know to be cabernet sauvignon.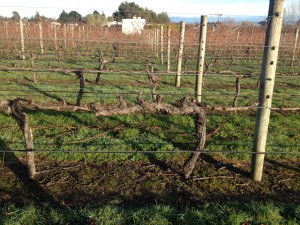 One thing you may not know however, is that our friend franc is the dominant ingredient in Château Cheval Blanc from St Emilion (one of the most famous wines on the planet, and considered the world's greatest example of its type) and is paired 50:50 with merlot in two other ultra-famous Bordeaux wines Château Ausone and Château Lafleur.  But it's not just the French who're It's also found favour with franc, locally we're quite loved up as well.
I decided to open four Hawke's Bay wines which feature cabernet franc in its various forms, solo and blended, then quizzed the winemakers responsible about ther franc fascination.
Dave McKee – Winemaker Black Barn Vineyards
"2002 was the first vintage for Black Barn and since then we've made an 05 an 09 and there's definitely a 2013 because the fruit is absolutely stunning from this year. The vines were planted in 1994 so they're almost 20 years old.  I think age is really important for franc and vintage variation is becoming less and less of an issue as the vines get older. Cabernet franc is one of those really underrated varieties but when you get it ripe and you get it right, it's just magic.  Its also an important component in our merlot cab franc malbec blend because texturally it has really fine chalky tannins. Compared to the sheer masculine grunt of cabernet sauvignon, it's got an almost feminine elegance, and can appear similar to pinot noir.
In cool years the expression of the fruit has a green pepper, tobacco note, so even though you can have fine-grained tannins, there's an element of herbaceousness which people often see as being an under-ripe character.  I quite like the term Stephen Henschke uses – he refers to cabernet franc as having a dried sage-like character, and I feel that dried herbal note is a positive. But my pivotal cabernet franc moment was when I met a guy having lunch at Clearview winery who had a bottle of Cheval Blanc and he invited me to share a glass of it with him. It was a wow moment.  It's hideously expensive but it was a revelation.  It became a beacon for me in terms of the elegance, tannin, texture and the seamlessness that can be achieved with cabernet franc.
Hayden Penny – Manager/Winemaker – William Murdoch Wines
"Our Cabernet Franc plantings are a small but crucial part of William Murdoch. It brings a finesse and spice to our blends while being highly aromatic, with beautiful perfume and floral notes. It's quite versatile, depending on the season. In 2010 it blended beautifully with our Cabernet Sauvignon, yet in 2011 it combined with our 'Old Merlot' block to make our first Merlot predominant wine in our top tier – the 2011 PAX.  It gave the Merlot length and structure, yet out in the vineyard, cabernet franc behaves a lot like Cabernet Sauvignon, with big strong hard wood and a huge amount of tendrils which make pruning franc quite the work out!
All of our wines are fermented with wild yeast and Cabernet Franc tends to be quite a difficult ferment to get right. Ferment temperatures must be watched closely and not allowed to reach 28-29degC or it tends to produce of Volitile Acidity. It also has a high tannin extraction during the first half of its ferment and it's always tempting to pull back on working the ferment (plunging etc) but during the second half the extracting can be quite low so you're always rewarded for continuing to work the tank, although gently is the key!
My favourite experience with Cabernet Franc was in Italy where the winery I was working at was making a 100% Carbonically Macerated Cabernet Franc. Weird, bizarre, and intriguing were all words that came to mind during the ferment but the results in the finished wine were quite spectacular".
Adam Hazeldine Senior Winemaker Babich Wines
"Aromatic and finely structured, cabernet franc seems to enhance the positive attributes of Merlot in a Bordeaux blend while contributing its own floral spicy lift, class and elegance. Also it can contribute an elusive sent of dried herbs – tarragon, thyme.
The trick is getting it ripe; it's not a late variety yet uniform ripeness can be a problem given its sensitivity to cold at flowering. When its good it can be up to a third of the blend,… but even at 5% it makes a difference. The vines are also particularly susceptible to downy and powdery mildew; but on the plus side the little berries and loose bunches make it less prone to rots like botrytis.
So given its difficulties, (particularly low yield and often requiring a lot of green thinning), it's not a variety we'd pursue for lower price, more commercial wines, …but for Irongate, and sometimes The Patriarch, we are more than happy to persevere.
As for a favourite Cabernet Franc memory…probably the 2004 vintage – the wine was so outstanding it was the dominant component of the Patriarch, and the Cabernet Sauvignon, Malbec and Merlot were no slouches either".
David Ramonteu, Winemaker – Alluviale Wines.
"Franc is a difficult variety to work with because it will tend towards having poor colour, vegetal characters and big structure if it's not in equilibrium.
In balanced conditions you can produce beautifully balanced fruit which exhibits fresh red fruit characters, floral and spice notes and bold structure that can be worked to give natural fruit sweetness, melted tannins and excellent colour.  I believe the Gimblett Gravels fruit (under the right conditions) is one the most impressive expressions of Cabernet Franc seen anywhere in the world.  Unfortunately that is not guaranteed every year, which is why we tend to alter the blend depending on the vintage.
What we're doing is akin to what they are doing at Cheval Blanc…if only we could command such respect and high prices!  I think they have about 60% of surface planted in Cab Franc with two main soil types.  One is heavy clay, which produces bold structured Cabernet Franc on a regular basis, and the second type is free draining gravel sand, which is very vintage sensitive. If there's too much water it will be dilute, too little it'll be stressed, remembering of course that they can't irrigate.
Unfortunately I haven't had much Cheval Blanc in my life but I remember a 1947 that I shared with my Dad (his birth year) and also have memories of tasting Franc at the St Emillion winery in barrel and tank as a student and being wowed by it.  My funniest Franc moment was expounding the virtues of a bottle of Mellot La Moussiere and saying I would one day make a Franc like this – deep, pure, elegant, vibrant when Kate (his wife, and fellow winemaker) kindly pointed out that it was in fact a Sancerre and therefore Pinot Noir".
Wines of the Week
Black Barn Hawke's Bay Cabernet Franc 2009 $35 ★★★★★
Crafted from a tiny patch of vines grown on the north-facing Te Mata Heritage zone on the slopes of the Havelock North Hills, this wine exudes black liquorice, dark berryfruit, smoke, cocoa and leathery loveliness.  Richly complex and boasting supple, sandy tannins and enduring length of flavour. This review is really just a big tease, because they've sold out at the winery – however there might still be some out there in the shops.  If you do actually have any of this in your cellar already, then lucky you!  It's drinking beautifully and will be for years to come.  www.blackbarn.com
William Murdoch Hawke's Bay Cabernet Sauvignon Cabernet Franc 2010 $32 ★★★★
Sourced from Brett Murdoch's 13.15 ha organically managed vineyard in Gimblett Road which was planted in 1999.  This rumpty, ribsticking red has intense berryfruit, florals, peppercorn and dark cocoa aromatics.  Aged for 19 months in 50% new French oak, it has a spicy, meaty, mouthfeel and long, tannins.  I'd love to try this wine again in another 3 or 4 years.  www.murdochwines.co.nz
Alluviale Hawke's Bay Merlot Cabernet Franc 2010 $33 ★★★★
Kate Galloway and David Ramonteu have created a wine that really allows the franc to shine.  Loaded with bright, juicy, spicy red berry and floral aromas and layered with smoky vanilla, cocoa and ripe plum characters on the finish.  It's an elegant, complex and very interesting wine, which will only improve with time.  www.alluviale.com
Babich Irongate Hawke's Bay Cabernet Merlot Franc 2010 $35 ★★★★★
Cabernet franc makes up one third of the blend in this now iconic kiwi red.  Babich have been producing this wine since way back in 1986 and all the fruit is sourced from the famous 'Irongate Vineyard' in the Gimblett Gravels.  It is inky-black and oozes dark plum, blackberry, and lifted, exotic spices and has delicious, savoury layers of flavour and a smooth, warming finish.  Just superb.  www.babichwines.co.nz