One thing I've learned is to never drink wine whilst watching Embarrassing Bodies followed by Ramsay's Kitchen Nightmares.  There's nothing like an unsightly pus-filled lump followed by another, well, slightly worse tempered, foul mouthed, pus-filled lump to put my palate up the Khyber.  For me, environment is everything.
I'm no frilly hippy and I'm no expert in the origins of positive chi, but past experience in horrible, corporate office cubicles has taught me that there's actually a bit of merit in turning off the TV or computer screen and sorting out the energy in a room if you want to get the best from your tastebuds.  And in my case it's pretty simple because I happen to like a table with a white tablecloth facing a window.  Even if it's just a sheet of white paper stapled to a desk, that's all I need.  If I can arrange it so that my back isn't facing the door, a mirror is placed in the southwest corner and there's a bowl full of goldfish facing north then that's a bonus – but I'm not going to perform hari kari on myself if it doesn't happen.   Yet if there's a window, no matter whether it looks out onto a green leafy landscape or a panelbeaters workshop or a Warehouse Stationery carpark, it doesn't matter.  My mind is instantly clearer; I'm energised and ready to go.  It doesn't mean I'm any less critical of beverages that aren't up to scratch because the faults just become clearer, but it makes for a much more productive experience.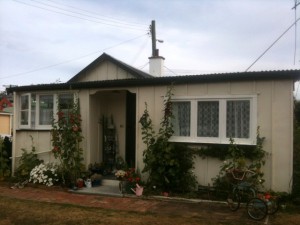 My notebook is absolutely bulging after a few days of intense tasting as I gazed out the window of the cosy little hut we stayed in at the Glenavy Fishing Camp.  Located at the Waitaki River mouth, it's a collection of tiny fishermans cribs that time forgot.  My husband hunted flounder in the lagoon and also managed to lasso a couple of huge kahawai (sadly the salmon weren't cooperating) I had a little Formica table covered in a large white doily-type thing to pop the laptop and a glass on, and when it came to cooking and after-dark activities like sing-songs and gossip-sessions – thanks to our hosts (kitsch collectors extraordinaire) Joss and Morrie Woodham, there were a zillion antique salt and pepper shakers handy and old-fashioned, crocheted woollen blankets to wrap around our shoulders if we got chilly.  Our family enjoyed flounders and fry-ups for breakfast and tiki tours into Oamaru for some steampunk and icecream.  And while my husband searched for salmon, I took the kids to the Riverstone Kitchen where they went nuts in the amazing playground and I went nuts in their three (yes, three) gift shops.  Then we'd all be home in time for a dinner of ham, lamb or chook.
Here are some of my favourite wines from my holiday:
Dry River Martinborough Pinot Noir 2011 $98 ★★★★★
There's a reason why Dry River disciples around the world wait for years to get their name on the mailing list so that they may be given the chance to buy this unbelievably good wine each year.  It's fragrance is the stuff of fantasy and its tastiness is bordering on criminal, boasting exotic tamarillo, black tea, red cherry, black guava and damson plum on the palate it's simply stunning.  The tannins are plush and velvety, the acidity finely-tuned, there's a liquorice-like intensity on the finish and it's quite unlike any pinot I've tasted in years.  Built for long term cellaring.  To enquire about buying visit www.dryriver.co.nz


Obsidian Waiheke Island Syrah 2009 $56 ★★★★★
Without a doubt one of the most captivatingly lush, ripe, saucy syrahs I've tried in ages.  With fresh aromas of boysenberry and raspberry mashed into an oak bowl and sprinkled with black pepper –it's dense, ripe, heady and exotic.  I love it because not only is it super-fresh and firm in all the right places, there's a silky smooth finish which is just heavenly.  www.obsidian.co.nz

Astrolabe Marlborough Pinot Gris 2012 $22 ★★★★
This is pinot gris with real personality.  If you're a fan of pear, peach and quince then you'll love this, because it merges all those juicy, tangy characters in a custard-like creamy texture finished off with carrot-cake spices.  Crisp, mouth-tingling texture and delicious length of flavour make this a must-sip for summer.  www.astrolabewines.co.nz

Pasquale Hakataramea Valley Gewurztraminer 2011 $30 ★★★★
The Waitaki River forms a border between Otago and Canterbury and while Pasquale's Kurow winery and Waitaki vineyard are technically in North Otago, their Hakataramea vineyard is over the bridge and up into the limestone-rich hills on the Southern Canterbury side of the river.  With clean, jasmine, rose and musk aromas followed by a dry, yet succulent palate of white peach and wet stones.  I'd love to try this again in a couple of years because I think it's built for the long term.  www.pasquale.co.nz
Villa Maria Reserve Gimblett Gravels Merlot 2010 $50  ★★★★★
Wow!  This rumpty red is absolutely bursting with intense blackcurrant, fresh, ripe plum and sexy, dark chocolate notes.  One sip and you'll also be hit with a mass of concentrated, meaty, masculine flavours, chewy tannins and a luscious, warming mouthfeel.  It's a wine that is only just starting to open up and it's so well constructed that I think it has a decade or more of delicious drinking ahead of it.  www.villamaria.co.nz

Woollaston Estate Nelson Sauvignon Blanc 2012 $20 ★★★★½
I have a real thing for Nelson sauvignon blanc and this snazzy, certified organic creation from Mahana is just magic.  With aromas of soft basil, lemon and ripe gooseberry and elderflower followed by a juicy, rich, seamless mouthfeel and spritzy-soft acidity – it will really appeal to those who don't like the big, squinty acid that some Marlborough sauvignons have.  www.woollaston.co.nz