An interesting wee invitation popped into my inbox from the lovely Andria Monin from Stonecroft in Hawke's Bay
"We will be celebrating Stonecroft's 30th anniversary at Labour Weekend. As you know, since we took over at Stonecroft in 2010 we have held an Annual Vintage Sale at Labour Weekend, where we have brought out some older bottles from our Library (which has very limited stock) and made them available for purchase at our historic Old Winery building (the first winery to be constructed in the Gimblett Gravels).
This year we will again be holding the Annual Vintage Sale on Saturday 20th October from 11am to 4pm, but because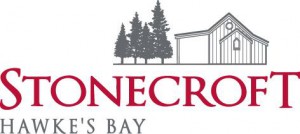 it is our 30th anniversary we will be making more of the occasion.
Labour Weekend marks our opening for the summer each year and this summer we will be offering Stonecroft platters for the first time and wine by the glass. We will also have the PizzaGuy making pizzas and coffees. We are encouraging picnickers to come along too. As well as wine tastings, we will have olive oil tastings on the day. The olive oils are from one of our neighbours on Mere Road, Meregrove, who are a very small boutique producer making high quality olive oil.
We will also have a couple of anniversary special offers."
The event will be at our Cellar Door and Old Winery at 121 Mere Road, Hastings (ph 8799610).