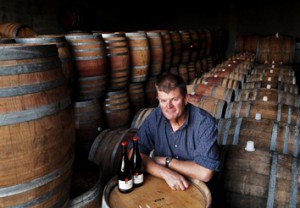 One of my biggest fears when I first started judging at wine shows was that I'd have to sit next to a famous wine person and be expected to converse in a clever and intellectual manner.  So when Larry McKenna himself sidled up as I stood at the bain marie attempting to grab a greasy lamb shank for lunch, I clamped up completely.  You see there are people in the wine world who intimidate the hell out of me and it's usually because of their incredible talent, depth and breadth of knowledge and all-round flashness.  They are people who I respect immensely and desperately want to impress, which is why opening my mouth can be somewhat risky.  Larry McKenna is one of those people.  Despite hailing from Adelaide, over the last thirty years McKenna has forged a reputation for being one of New Zealand's greatest winemakers, and it's his international success with producing premium pinot noir that's earned him the moniker "Larry McPinot" or "Mr Pinot Noir".  Cutting his teeth on pinot back in 1986 as the winemaker for Martinborough Vineyards and catapulting the company to international stardom when their 1998 Martinborough Reserve Pinot Noir which he crafted won a place in the "World's Top 20 Pinot Noir's Competition held in the USA last year.
McKenna also established his own operation, Escarpment Vineyards in 1998 with three other directors on Martinborough's rocky Te Muna river terraces. In Maori, Te Muna translates to "secret" or "special" place and with its sweeping kilometre-long escarpment and vertigo-inducingly steep 30m drop to the river it's an incredible site.  Under McKenna's eye for eking out excellence from the soil into the vine, the vines are planted incredibly close to one another (6700 vines/ha) and produce a miniscule 1 kilo of fruit per vine which if you do the maths is roughly one bottle per precious plant.  Despite firmly believing Martinborough to be the location of his pinot noir-vana, during the development of Escarpment, Larry spent time consulting to pinot noir producers around New Zealand and Australia just to keep his hand in the multi-regional mix.
Anyone in the wine business will tell you that good pinot noir is notoriously difficult to make.  Even if you have the best site in the world it's a variety that despite being one of the sexiest, most beguiling wines you'll ever come across, it can curl up into a moody, thin-lipped, weedy nightmare if you're not careful which is why I'm in awe of what Larry manages to produce.  Not content with the stress of trying to create just one or two great pinots from his vines, McKenna makes five.  In only the exceptional years since 2006 "the pinnacle of our winegrowing achievements" gets bottled under his 'Insight Series' label.   Designed for time in the cellar, tiny quantities of these wines are created from each of his single vineyard sites, and help explain his passion for expressing the individual 'terroirs' of the Martinborough region.

March 1st saw the release of his famous five from the 2010 vintage which according to McKenna was an exceptional year in Martinborough.  The Escarpment 'Kupe' Pinot Noir 2010 ($85)

 is deeply dark and inky with a core of vibrant rhubarb, clove, cherrywood smoke and wild strawberry characters. Fresh acidity adds a layer of lush, textural intensity to the finish.  It's a sexy, succulent wine with a huge future ahead of it.  The Escarpment 'Kiwa' Pinot Noir 2010 ($65)

 has baked strawberry, red currant and sweet oak aromas on the nose and boasts lovely mid-palate presence and a deliciously spicy, tea leaf note on the finish.  The Escarpment 'Te Rehua' Pinot Noir 2010 ($65)

 boasts ripe, juicy japonica and cherry notes and I love the multi-dimensional, slippery, silky mouthfeel of this wine.  Hedgerow fruits, spices and a hint of cocoa make this a superb sip indeed.  If you want to be completely seduced by something then try the Escarpment 'Pahi' Pinot Noir 2010 ($65)

.

  A mouthful of this wine is like tasting a handful of ripe, black cherries freshly squashed between dust-covered fingers and smeared over something old and leathery (not Joan Rivers old-and-leathery – more like a seasoned, weathered satchel strapped to a cowboys saddle)  It's a magical wine that offers plush, succulent fruit, spicy complexity and impressive persistence of flavour.  Finally the Escarpment Martinborough Pinot Noir 2010 ($49)

 is a multi-site, district-blend which shows lovely soft plum, cherry and berry flavours sewn together with vibrant, tangy acidity to create juicy length and definite drinkability.
Larry's wines are a reflection of his passion and pedigree, but his personality is anything but posh as I found out whilst standing at that smorgasbord all those years ago.  "Hey Yvonne" he whispered into my ear, "When you're done with that shank bone would you mind chucking it on my plate?  I'm gonna wrap up as many as I can bludge in some tinfoil and take them home for my old dog".  We've been firm friends ever since.
Wild River Waipara Pinot Noir 2011 $17 

As an introduction to pinot noir for under twenty dollars, this has to be the buy of the year.  It's very young but it's designed to drink early and it ticks all the boxes as far as vibrant, spicy red fruits and savoury, earthy undertones are concerned.  It has definite drinkability factor and offers vaavoom for value. Available exclusively from The Fine Wine Delivery Company www.finewinedelivery.co.nz
Grape Stomper Riesling 2009 $15 

Made from fruit sourced in North Canterbury this juicy little riesling has classic green apple snappiness, a splash of sweetness and tangy minerality to finish.  A refreshing, highly quaffable riesling that'd be superb with spicy, stir fried garlic pepper prawns or green curry chicken.  Buy from www.directwines.co.nz
Herald Cove Central Otago Pinot Noir 2008 $19 

An outstanding wine for the price!  With aromas of red cherries and sweet black tea it follows with intensity, spiciness and refreshing, fruity charm in the mouth.  The label is one of the ugliest I've seen in a long time, but please look past that because this pinot is a cracker.  Buy from www.directwines.co.nz