It is exactly one year since Ash Ridge Wines opened their tiny, tin shed cellar door on State Highway 50, ten minutes drive southeast of Hastings.  Offering a handful of wines, coffee, tea and good old gap-fillers like antipasto, cheese platters and lasagne, they're perfectly poised to snare parched and peckish people speeding north from Maraekakaho or south via the Gimblett Gravels.  However it was hardly heaving with people when I popped in for a looksee on January 2nd whilst en route to Napier for an afternoons shopping with my mother and daughter.  Having already endured a lengthy drive from the farm in Mangelton (relax, no-one else knows where it is either), Mum decided she needed a glass of wine to prime herself for the task ahead, the eleven year old was itching for apple juice and I've learned from experience that one mustn't face financial ruin without fortifying yourself with carbohydrates first; so a sign screaming 'Café' was like a message from heaven.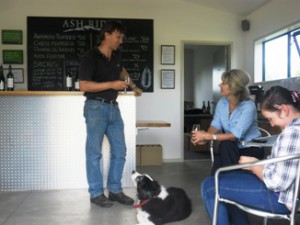 "I think the cinemas are probably creaming it" shrugged owner Chris Wilcock when I quizzed him over why it was so quiet.  "We had a couple of great days just before Christmas, then the wet weather set in and visitor numbers have been all over the place".  "Good" I thought, "this means I can have Chris all to myself and he can talk me through his wines and answer all my mothers' questions uninterrupted".  But no sooner had he unscrewed the cap on the first bottle than a car load of ladies on a wine tour trundled up the driveway.  All he had time to say was "We only used 7 year old barrels and kept the wine in there for 6 months trying to create a Hawke's Bay sauvignon that was 'different' texturally…" before "excuse me" and "back in a 'sec" leaving my mum to declare the luscious, lemony, slightly toasty 2010 Ash Ridge Barrel Fermented Sauvignon Blanc ($20) to be "absolutely delicious with a lovely feijoa-type flavour" all by herself.
With bottles tucked under their arms, the ladies soon tootled off and there was just enough time for us to taste the Chardonnay before another car arrived complete with a family determined to be fed.  "This is only the second time we've produced a chardonnay" says Chris, quickly pouring before racing off to serve the other customers "it's a lighter style with very little oak".  I like it and Chris readily admits he's a chardonnay pusher.  "I force people to taste it" he laughs.
Ash Ridge might be a new operation, but it has one of the regions older residents in its management team.  "This is Star, our cellar door collie" says Chris beckoning her over.  "We inherited her from the Daymond-King's over at Hatton Estate before they relocated to Singapore.  Experienced cellar door dogs are hard to come by" he says scratching her ear, "so we consider ourselves fortunate to have her".  True to her job description Star quickly warms to Charlie my German Shepherd and directs her to the outside water bowl like an old pro.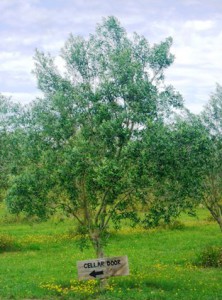 More vehicles speed down the driveway and suddenly the cellar door becomes a bit of a squeeze, so it's a good thing the food appeared so we could retire to a table outside.
With those customers happy, Chris quickly pours us a sample of their gold medal winning 2009 syrah.  "This is 85% first-crop fruit from two-year-old vines.  A two-year-old grapevine produces bugger all fruit.  We only got two tonnes off four acres!" Chris laughs, "But what we did get was stunning".  Mum and I agreed.  We had just enough time to taste the 2009 Merlot Cabernet before another car pulled up.  With fruit sourced from Jon and Emma Peet's vineyard nearby, it has plumpness, complexity and lovely weight.  "The only thing we're changing with the 2010 is adding a touch of American oak into it" says Chris, "it's looking really nice".
With plates cleared away it was time to hit the shops.  Ash Ridge was getting busier by the minute and things seemed on the up; but before we left I had to ask Chris if things hadn't always been so rosy.  Surely it can't have been smooth sailing the whole way? "Oh we've had a few little hiccups" he admits, "like when the wrong corks got put into our 2008 Syrah" he says shaking his head.  "About 300 bottles were accidentally corked with another winery's logo printed on them".
"How did you explain that to your customers?" I asked him, "most things you can correct, like if you put the wrong label on you can replace it, but once you've got the wrong cork in you're stuffed."  "It still sold well" he shrugged "and wasn't as big of a drama as we thought it'd be".
Squawking Magpie SQM 2005 $69

Sometimes it takes a few years in order for a wine to really begin to sing, which is why the team at Squawking Magpie have kept rather quiet about the SQM which has been quietly minding its own business in the cellar for the last six years.  A Gimblett Gravels-grown merlot/cabernet sauvignon concoction, it's scented with prune, boysenberry, saucy spices and leather while in the mouth it oozes cigar box, cocoa, dried herbs, dark fruits and liquorice flavours.   The tannins are solid and lengthy. Buy from fine wine stores or enquire at  www.squawkingmagpie.co.nz
Ash Ridge Hawke's Bay Merlot 2011 $20

Having literally only been bottled a fortnight ago, I was expecting this wine to show that thin, slightly weedy, simple profile that newly-bottled wines often have – but instead I was met with a burst of berryfruit, cocoa, hints of peppercorn and plum.  It's hardly a blockbuster and I wouldn't hold on to it for much more than a year or two, but it's smooth, ripe and ready, fruit-forward, dependable and dangerously drinkable, which is often all you want really.  Buy from the cellar door or via www.ashridgewines.co.nz
Ash Ridge Hawke's Bay Syrah 2009 $29

The thing I love about syrah from The Triangle (sometimes referred to as the 'Ngatarawa' 'Bridge Pa' or 'Red' Triangle) as opposed to its neighbour, the Gimblett Gravels, is that it is distinctly feminine.  Sourced from fruit grown solely in their Cardoness Vineyard it has ultra-defined blackberry, pepper and violet notes with an exotic undertone accentuated by a splash of viognier. On the finish it's an exercise in elegance and restraint, and having scooped Gold medals at two prestigious national shows, it's no surprise there's precious little available.  Get yours from www.ashridgewines.co.nz
Kumeu River Mate's Vineyard Chardonnay 2009 $55

It's impossible to describe this wine in just a few lines and I think that's the reason why this wine is considered an icon as far as kiwi chardonnay is concerned, why it has fans stretching the far corners of the globe – because no one flavour dominates the other.  Think of elements like white peach, honeydew melon, brioche and brulee, clean acidity, slippery, mealy texture and clinging length of flavour like prongs on a zipper.  When you sip, it's like the zip pulls those things together to create personality and presence which really makes an impression.  Buy from fine wine stores or www.kumeuriver.co.nz