Either Hugo or I go…
One of Australia's most famous brands has had a major makeover.  Not only has it given its label a bit of nip-and-tuck and indulged in an expensive set of extensions; it's also visited the local council chambers, filled out the forms and instigated a name change.  First launched in 1980 and designed to age for a decade or more, St Hugowas until 2008 always made from cabernet sauvignon sourced from a multitude of vineyards in South Australia's famous Coonawarra terrarossa soils.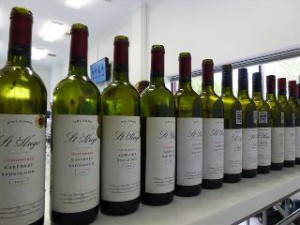 Not content with being known solely as a world-class Coonawarra cabernet sauvignon, the St Hugo brand has recently been extended to include two wines from the Barossa, a Shiraz and a GSM (Grenache, Shiraz and Mataro) blend.
The 'Orlando' moniker on the iconic label has also been subtly sidelined and replaced with 'Jacob's Creek'.  The Jacob's Creek brand needs no introduction but some may not know that those wines are made by Orlando Wines, a company founded by Johann Gramp after he planted his first vines on the banks of Jacob's Creek in 1847.  St Hugo is part of the premium Jacob's Creek range and is named after Johann's grandson Hugo Gramp who became a key figure at Orlando Wines.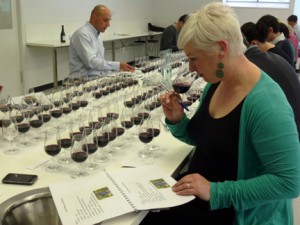 During a tasting of fourteen past vintages of St. Hugo cabernet at the historic Orlando winery recently, Group Fortified and Red Winemaker Sam Kurtz explained that St. Hugo adopting the Jacob's Creek name would help it break into growing territories like Asia.  Fair enough, thats where the money is at the moment.
While Jacob's Creek are the biggest growers of cabernet sauvignon in the Coonawarra, they also have an army of vineyards to choose from in the Barossa and Eden Valley's with which to source fruit for their Shiraz.  I was given a sample of Shiraz from fifteen of these vineyards, all from 2010 and all made in a similar manner – the only differences being the unique geography and vine age of each site.  Sourced from Shiraz grown in lowland locations like Gomersal Plains at 160m above sea level right through the Lyndoch Valley, Williamstown, Rowland Flat, Koonunga Hill, Ebenezer and Greenock Hills (340m) the differences in flavour were huge, particularly when altitude rises up to 400m in Angaston and Flaxman Valley Road vineyards at 470m above sea level. "What I reckon you'll need to concentrate on while you're tasting is vine age" says Sam, "there are 8 year old vines through to teenagers, 20-something's, some middle-age spread and a couple of geriatrics amongst them, and the flavour differences blow me away every time". The 8-10 year olds were powerfully fruity, juicy and spicy with tight tannins whereas the wines from the 90 year old vines in Rowland Flat were incredibly generous, smoky-sweet and showed deliciously complex dried herb flavours.  Not surprisingly, they both form major components of the Jacob's Creek St Hugo and Centenary Hill Shiraz.  I'll tell you this for free, for wine nerds like me it was eye-popping stuff.
Northland get's to the point
Regional wine shows are all the rage in New Zealand now and the results have just come out from one of this country's smallest.  A partnership between the University of Auckland Wine Science programme and regional winegrowers, The Upper North Island Wine Challenge was initiated from a perceived need for the region and it's sub-regions to be recognised as making a unique and historical contribution to the New Zealand Wine Industry.
"We believe this collaborative approach is unique" says event spokesperson and associate judge Shona White.  "Our point of difference will in the long-term focus on the ability to identify the sub-regional differences between wines and the consequent challenges for winegrowers and winemakers".
Of the six gold medals awarded at this years show Tracy Haslam's Ti Point vineyard scooped two, one for her Ti Point One Merlot Cabernet 2010 and the other for her Ti Point Matriarch Matakana Coast Syrah 2010.  The syrah embodies what Haslam believes can be achieved when making a great wine with exceptional fruit.  Syrah doesn't come easy in this region and it's a real struggle to get it ripe and keep it clean.  But when Northland puts on a good season it takes some beating.  "This Syrah represents the epitome of what I can achieve from my vineyard" she says.  "2010 was a sensational vintage and the fruit was harvested at its optimum condition". Haslam's syrah is dedicated to her grandmother Nan, an inspirational woman who despite being in her mid-80's, is no slouch in the vineyard, tearing around on the four-wheeler motorbike ensuring all's well on the manor.  She has been instrumental in the growth and development of this tiny vineyard situated on Northland's Matakana Coast.
Jacob's Creek St. Hugo Coonawarra Cabernet Sauvignon 2006 $50

This wine is glossy with incredibly dense colour and gorgeous aromas of mint, violet, hints of leather and black fruit.  In the mouth it is warming, plush, gamey and elegantly structured.  The tannins have a gentle yet solid grip and add a lovely textural layer to the long, lingering finish.  Available from fine wine stores.
Quartz Reef Central Otago Methode Traditionnelle Rose NV $35

Gorgeous trout-pink colour with vibrant cherry blossom, strawberry shortcake and toasted bagel aromas.  Clean and elegant, it boasts seductive spritz, textural complexity and impressively rich length of flavour.  Made from 100% Bendigo pinot noir, this is a sensational example.  More please! Available from fine wine stores or via www.quartzreef.co.nz
Ti Point 'Matriarch' Matakana Syrah 2010 $45

Perfumed and peppery, this wine is both muscular and meat yet feminine and frisky and just like the woman it's named after I'll bet it'll become more beautiful with age.  Different layers of flavour unfurl with every minute it's in the glass – so take your time to enjoy the velvety tannins and lush length of flavour.  Just lovely.  www.tipoint.co.nz
Heron's Flight Matakana Dolcetto Unplugged 2011 $25

If you're after an ultra-smooth, ripe and ready red then this will definitely spin your wheels. Soft plummy aromas with hints of cocoa and dried herbs, there's a splash of blackberry and a warming, beefy finish.   www.heronsflight.co.nz
A burst of white-flesh nectarine, yellow plum and spritzy, tangy tropical tastiness is what you'll get in each glass.  Sure it's sweet, but it's also very clean and crisp and at a rather bashful 7.5% alcohol it'll also help you keep your keel even during those long, summer lunches.  Widely available at supermarkets or via www.blackmarket.co.nz