"Having our winery right in the middle of the vineyard is the best thing for me as a winemaker" says Kate Galloway of Hawke's Bay's Alpha Domus wines.  "I love being able to walk outside directly into any of our vineyard blocks to check on how the fruit is tasting. I definitely think this is where we have the advantage over larger wineries, particularly in really challenging vintages like the one we've just had. Even waiting as little as 48 hours from tasting to harvest can mean the difference between success and failure".
Along with a group of Wellington-based wine enthusiasts I've joined Kate and her boss, General Manager Paul Ham at Duke Carvell's Emporium, to taste for the first time a vertical collection of their flagship wine, The Aviator.  A traditional 'Bordeaux blend' this wine can be a melange of any or all of cabernet sauvignon, merlot, malbec and cabernet franc depending on the vintage.  Yet this wine is only produced in years when the fruit is exceptional.  As a consequence there was no 2008, 2006, 2004, 2003 or 2001, nor was there one produced in 1997.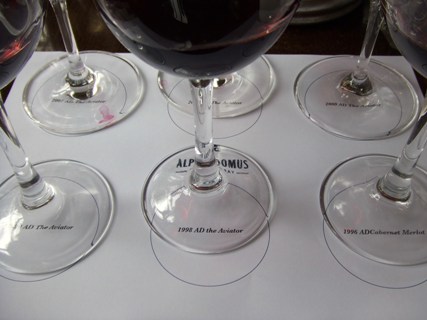 This insistence by producers of New Zealand's top wines to only make them when the fruit is perfect gives fine wine collectors no end of grief.  Serious collectors, (particularly from overseas) like to see unbroken lines and they just can't get their heads around our attitude.  "All the great producers in Bordeaux make their top wines each year regardless – why can't you kiwis?"  Having to constantly monitor which years were good or bad especially when you're paying hundreds, if not thousands of dollars a bottle just seems like a huge pain in the jacksie.  "We like to make it easy" I tell my foreign friends.  "Making our best wines only in the best years is a guarantee of quality.  You know that wine is going to create memories and make an impression as soon as you open it.  Isn't that more important than having an ordered shelf in your cellar?"  This is inevitably met with much eye-rolling and muffled "whatever's".
The Ham family were horticulturalists who purchased their 20 hectare block on Maraekakaho Road back in 1989 and they began planting over the following four years.  The company name is an anagram of the family members names; Anthonius and Leonarda (the parents) followed by Paulus, Henrikus and Anthonius.  The word Domus means 'house' in Latin.
Situated in the Triangle district of the western Heretaunga Plains, the soils are similar to those of the neighbouring Gimblett Gravels but they also have a distinct red topsoil layer above the stones.  These 'red gravels' are responsible for producing some of New Zealand's most sought-after wines, wines from the likes of Sileni, Ngatarawa, Bridge Pa Vineyard and Te Mata Estate.
With 2009 being touted as the red vintage of the decade we were eager to taste the new Aviator.  It has just been selected by NZ Winegrowers to be included in their First Fifteen wine tasting in England where it'll be put up against fifteen top reds from Bordeaux.  "Since the beginning we've always strived to improve but this year we're incredibly happy with how the wine has emerged" says Paul.  However he and Kate appeared nervous as we sipped, but they needn't have worried because the room was collectively wowed.
The 2007 Aviator is beautifully perfumed with florals and spices and it's an extremely elegant wine, like a little sister of the 2009.  Kate's first vintage at Alpha Domus was in 2002.  Unfortunately it was slightly tainted by Brettanomyces yeast which dried it out slightly, "believe me those are characters which we do not want to replicate and as you can see in the 07 and 09 we've done a pretty good job of eliminating it from the winery" says Paul.
The 2000 is showing no signs of slowing down with dense plum and dark chocolate aromas, fresh acidity, prune-like richness and muscular tannins.  The cooler 1999 vintage produced a wine that lacks the mid-palate punch and volume of recent examples, but makes up for it in sophistication, femininity and finely textured elegant length of flavour.  1998 was the most famous vintage of that decade and it was easy for winemakers in Hawke's Bay to get too excited, extracting too much alcohol and tannin – it was a good test of who knew what they were doing and who didn't. Some wines tipped over all too quickly, but the1998 Aviator is holding up beautifully with concentrated, earthy carpenter's workshop aromas and pronounced plum, cranberry and baked strawberry flavours edged out with a seam of eucalypt on the finish.  "It's a powerhouse with a long way to go yet" was a comment from more than a few people in the room.
The eye-popper of the tasting was how much character and charm the 1996 was still oozing.  It may've lost the youthful magenta/crimson colour of youth, but the nose has lovely earthy spices and the layer of berryfruit and plum in the mouth is still sweet and fresh.  The finish is elegant and long and it was just a joy to drink.
Alpha Domus AD The Aviator 2009 $57

Glossy, magenta flecked with crimson it has exotic plum blossom, blackberry and cocoa aromas and one sip shows beautiful, multilayered texture in the mouth.  Excellent fruit concentration, and the 37% cabernet sauvignon component is robust and ripe providing a solid backbone for the merlot, malbec and franc.  It is warming, velvety and long on flavour; it has personality, character and weight that'll carry it through decades to come.  Buy now or forever kick yourself.  www.alphadomus.co.nz

Lime Rock Grüner Veltliner 2011 375ml $22

The debut example from the best little winery southside of the Te Hauke swamp, and it has interesting white pepper, apple and sake-like aromas followed by green apple, fruitwax and subtle, salty notes on the finish.  A really interesting wine that is also rare as hens teeth, so you'll have to visit the cellar door in Tikokino to buy – or you could try your luck on the website www.limerock.co.nz

Te Mania 'Big Balls' Nelson Syrah 2010 $22

Inspired by the upcoming Rugby madness, winemaker Steve Gill says it's an ideal accompaniment to roast springbok and deep fried wallaby and also "to wash down any English puddings".  Ripe and robust, peppery and smooth, it's dangerously easy to drink.  Created as a hearty, ribsticking wine to enjoy during the Rugby, it also ties in with the launch of a unique grapevine sculpture exhibition on the property including a gigantic rugby ball which at about four metres high, was made by staff at Richmond Plains and Te Mania.  www.temaniawines.co.nz

Reefton Phoenix Golden Ale 330ml 5% $4
Reefton is known as the 'Town of Light' after having the first public supply of electricity in the Southern Hemisphere, but now it lends its name to this zesty beer which has snappy, malty aromatics, hints of oyster shell and a long, sparkling tangy finish.  It's just fabulous with seafood of any description.  Available from www.wigrambrewing.co.nz or www.beernz.co.nz
Alpha Domus The Barnstormer HB Syrah 2010 $27 

A sexy, glossy magenta-coloured wine oozing aromas of freshly ground black pepper, roast beef and ripe berryfruit.  It is deliciously silky to drink and boasts fresh blackberry and liquorice flavours with a smoky undercurrent which leads to a long finish complete with clinging, muscular tannins.  A lovely match for venison backstraps or sticky spare-ribs. www.alphadomus.co.nz