A partnership between prestigious Martinborough producer Dry River and pioneering Gimblett Gravels winery Te Awa in Hawke's Bay, has beaten an esteemed field from South Africa, Argentina, Australia, Chile and New Zealand to take the hotly contested Five Nations Challenge Red Wine of the Show Trophy.   
The Kidnapper Cliffs Cabernet Sauvignon 2009 ($55) was one of five Kidnapper Cliffs wines selected by NZ judge Bob Campbell MW to compete in what's become known as one of the elite wine shows of the world.  "We are absolutely ecstatic" says winemaker and Kidnapper Cliffs General Manager Ant Mackenzie.  "The wine itself is cabernet sauvignon from Te Awa's Zone 10 block which has always had something special about it.  We're not sure if it's the clone or the site or the two decades of vine age but it has a history of producing sensational single-varietal cabernets."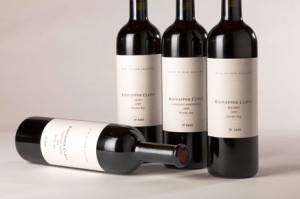 Both Mackenzie and Neil McCallum from Dry River prefer to leave the wines in barrel for the entire time it's aging, opting against the conventional 'rack and return' process with their Bordeaux-style reds. "Whilst that preserves the fruit, it does limit the amount of oxygen exposure to the wine which meant it was not until the very end of the wines maturation that we hit that balance between the herbal and fruit notes.  We very rarely see over-ripe characters in cabernet, yet it's all too easy to see the green – achieving that knife-edge balance is key for us and I think that's the allure of great cabernet sauvignon".
Mackenzie is excited about the varieties future in Hawke's Bay at a time when many producers are experiencing difficulty with inferior clones and inconsistent ripening. "We can look through the wines made by previous Te Awa winemakers and Zone 10 has been made often – a testament to the combination of site, clone and canopy management.  We're also doing everything we can to encourage front and back light-exposure to assist in whole-bunch ripening" he adds.
For Ant and his team the philosophy congruent to Dry River and Kidnapper Cliffs winemaking is getting the phenolics right in the vineyard. "If you can get those phenolics right before the sugars get too high there's a great advantage in being able to pick those grapes earlier when it comes to achieving elegance in the bottle".
The judges, Huon Hooke (Australia), Michael Fridjhon (South Africa), Bob Campbell MW (New Zealand) Fabricio Portelli (Argentina) and Eduardo Brethauer (Chile) awarded a total of 17 Class trophies, 38 Double Gold medals and 55 Gold medals during the challenge.  The Kidnapper Cliffs Cabernet Franc 2009 was awarded a prestigious Double Gold and both the Kidnapper Cliffs 'Ariki' Merlot Cabernet Franc Cabernet Sauvignon 2009 and Kidnapper Cliffs Pinotage 2009 were awarded gold medals.
With a multi-award winning Marlborough-centric background, Mackenzie is absolutely thrilled with these accolades, saying it's fantastic validation after being dismissed as an 'aromatics' man in the past.  McCallum's reputation is also based on catapulting Dry River into the league of global fine wines via magical Martinborough Pinot Noir and elegant aromatic whites – however creating great Bordeaux-style reds was always on their radar.
These awards prove that to produce great wine requires skill and experience, an understanding and appreciation of the art and science, and above all, exceptional fruit.
How readily available is the Kidnappers Cabernet Sauvignon?  "We've had to put the brakes on retail sales and now have less than 100 cases left of individually numbered bottles" says Mackenzie.  "The best and most reliable way of getting it is by joining the mail order list."
The Five Nations Challenge is run by the Association of Australian Boutique Winemakers (http://www.boutiquewines.com.au/) and is the only wine show in the world where the wines come in exclusively by invitation from the five Judges.There are sixteen classes. Each Judge is set the task of nominating SEVEN wines from a minimum of 14 Classes – the best in their country regardless of size of company and number of wines available.

There are three judging days in Sydney. The wines are poured out of sight of the Judges who then convene and each judge 35 wines in all classes identified only by numbers. All trophy wines are re-judged for the Four Seasons Wine of Show, White Wine of Show and Red Wine of Show. Nation of Show is then calculated with regard to the aggregate scores.