Wah-hoo!  It's Wine Awards Season! 
There's no doubt about it, we are in the thick of wine awards season.  Medal announcements are flying around the media faster than a Sonny Bill shirt-swap pic on Facebook. I've lost count of how many press releases I've seen just in the last few days announcing trophies here, gold medals there; it's a marathon effort just to keep up with it all!  But I love it. I love the anticipation.  Waiting to find out who scooped those precious medals, which wine walked away with a trophy – who won Wine of the Show on awards night?  I love the surprises, the inevitable controversy, arguments and argy-bargy and backstabbing backstage (actually I'm kidding about the argy-bargy)
Whilst we've just said sayonara to the Spiegelau International Wine Competition, the Bragato Awards and the NZ International Wine Show, other shows are just getting started.  This week the results of New Zealand's only price-restricted show have been made public.   The New World Wine Awards were established back in 2003 and has grown significantly over the years.  Wines entered into the show must retail for $25 or less and there must be at least 500 cases of each wine available for sale.  This was a strategic move to counter growing grumpiness amongst wine lovers who'd find many trophy and gold medal wines from other shows would be snaffled up by those in the know even before the results were announced!  Wine fans can be confident that they'll be able to find and buy the top wines from the New world show easily and cheaply.  In fact nearly 30% more wines were awarded gold medals this year proving that a top quality wine doesn't need to break the bank.  Each wine is scored by an expert judging panel using the same international wine judging points system as all other major wine awards, rating taste, smell and colour. All wines receive a score out of 20, with entries needing to be scored 18.5 or higher to be awarded a gold medal.
This year a record 1058 wines were entered from 181 vineyards, the lure of instant national distribution across New World's 135 supermarkets being a major driver for many wineries.
Open to wines from all nations, New Zealand wines took out top honours in two out of three of the ultimate 'taste-offs' by the judging panel to select the Champion Red, White and Sparkling Wines:
Champion Red – Shingle Peak 2010 Reserve Pinot Noir
Champion White – Mount Riley 2011 Riesling
Champion Bubbles – Jacob's Creek Chardonnay Pinot Noir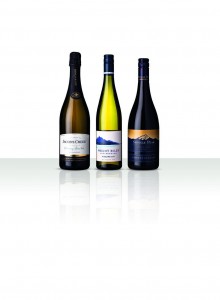 "It was great to be able to award the Champion White to a Riesling" says Jim Harré, Chairman of Judges. "New Zealand winemakers produce some of the best Riesling in the world and in my view it is one of our most underrated wines. The Mount Riley Riesling is extraordinarily beautiful with great texture and backbone, exactly how a perfect Riesling should taste."
A Top 50 selection of the award winning wines will be showcased in the 2011 New World Wine Awards booklet and be stocked in New World stores nationwide from 19 September. Wine fans can also take their wine education a step further by finding food and wine matches, video clips of the judging process, recipes and full competition results on the revamped 2011 New World Wine Awards website www.newworld.co.nz.
This week the top awards for New Zealand's newest regional wine competition The Marlborough Wine show were also announced over the weekend.  Organisers opted to use a completely different awards system to traditional shows where wines were classed as either 'Excellent', 'Highly Recommended' or 'Recommended' – so it's a bit like a vinous NCEA.
Rather than medals, these new "consumer-driven promotional labels" are more exciting according to competition director Jane Jackson.  "Now wine buyers can see at a glance exactly what the judges are saying about a wine, rather than having to work out what the medals actually mean."  Fourty six wines from a total of 424 entries were judged to be 'excellent. "With just over 10% of wines awarded the equivalent of a gold medal, this is a tremendous result and reflects just how good the last few vintages have been" says Chief Judge, Jeff Clark.  "It has been so exciting to judge Sauvignon Blanc and Pinot Noir by sub-region and by vintage" adds Jackson. "We have been able to see the area's characteristics and consider the range of styles they produce" a point echoed by guest international judge Ben Edwards the Melbourne-based President of Sommeliers Australia.  "While everyone loves Marlborough wines it's time to expand on the story. Looking at wines by sub-region and highlighting the differences is certainly going to help show that Marlborough has a lot to offer wine lovers around the world."  Top Sauvignon Blanc and the Champion Wine of the Show award went to the Invivo Marlborough Sauvignon Blanc 2011.  With the judging for the Hawke's Bay A&P Mercedes-Benz Wine Awards, the International Aromatic Wine Competition and the Air New Zealand Wine Awards all coming up in the next few months there's still plenty to keep wine geeks like me on the edge of our seats.
Show Fact: Villa Maria have had a dream run this year with three of their wines winning the ultimate honour of being crowned Champion Wine of the Show at four recent competitions.  The Villa Maria Single Vineyard Keltern Chardonnay 2010 trumped the NZ International Wine Show and the Bragato Awards.  The Villa Maria Single Vineyard Ihumatao Chardonnay 2010 topped the Spiegelau International Wine Show and the Villa Maria Reserve Hawke's Bay Syrah 2009 emerged victorious at the Royal Easter Show.
Millton Riverpoint Viognier 2010 $28 

Scented with yellow plum, orange oil and frangipane.  In the mouth it boasts citrus pith and musky, mid-palate seductiveness.  Topped off with tangy, warming length of flavour and a nicely balanced 13.5% alcohol, this is definitely a drinkable example that works beautifully with apricot and sage-stuffed pork roast.  www.millton.co.nz

Coopers Creek SV Gisborne 'Bell Ringer' Albarino 2011 $20 

Dubbed the 'Bell Ringer' because it was an instant hit within the company, it's also the namesake of their Gisborne growers Doug and Delwyn Bell.  It has soft, powdery floral aromas and super-clean, dry and minerally in the mouth with a white peach note on the finish.  Albariño a new star – get amongst it.  www.cooperscreek.co.nz
Villa Maria Reserve Gimblett Gravels Grenache 2007 $60 

I've been waiting for a 100% Grenache from Hawke's Bay since forever!  Heady roasting pan juices, rosemary and dusty, earthy aromas lead the way to spicy plum, mace and amazingly silky, earthy, blackberry and cherry smoke.  It's a muscular, meaty wine – and is just sensational with venison sausages.  www.villamaria.co.nz

Cypress Hawke's Bay Merlot 2010 $21 

Lifted spicy plum, raspberry and deep cherry and cocoa aromatics followed by a lovely chocolate, smoke character on the finish, this is a fantastic, fresh, beautifully balanced red that will definitely impress.  I think it'll cellar well for another 4-5 years if you're disciplined enough.  www.cypress.co.nz