Bostock Wines Vicki's Vineyard Hawke's Bay Chardonnay 2017 $50

I deliberately left this wine for a year from release to taste it because from what I'd read about how it was made, I figured a little time would really elevate things immensely. Sometimes I do actually have ideas that work out for the best because this wine is AMAZING.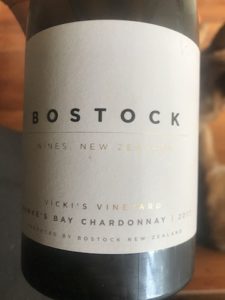 Crafted by superstar winemaker Rod McDonald for John Bostock, this chardonnay is dedicated to the late Vicki Bostock, a woman who had huge passion for the land and organic living for her husband and children.
So how was it made? Only the free-run juice from whole bunch-pressing was poured directly to a selection of superior quality, French oak barrels, 50% of which were new, for a wild, natural fermentation of which the lees were stirred at the end.  Then 50% of those barrels went through a malolactic fermentation during the spring, which softened out any hard acids and injects the most soothing, glorious, creamy characters in the wine. Combine that with a long, quiet, cool sleep for 10 months in barrel before being lightly fined and filtered then bottled.
The result? Intoxicating aromas of pineapple, grilled grapefruit, white peach and caramelised spices which merge with beautifully balanced, juicy, perfectly proportioned layers of flavour. Popcorn and peach, almond meal and toasted brioche all combine to create just the most lovely thing to drink.