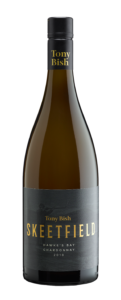 Tony Bish Skeetfield Hawke's Bay Chardonnay 2018 $59.99

I got an email recently from Tony Bish, (who in my opinion should be given a knighthood for his services to chardonnay) saying "We are very pleased to announce the release of the 2018 Skeetfield. This is a great follow on from 2017, and from a better vintage".  It took another few minutes before I was able to read on because an uncontrollable urge took over and I began leaping around like a pogo-ing punk with excitement.  Succulent, saucy, citrus-saturated chardonnays like this are what make my world go around, they spin my wheels and make life worth living.  Crafted from 26yo, dry-farmed, Mendoza-clone vines, the fruit was hand-picked and fully barrel-fermented in Taransaud French oak barrels (Tarnsaud have been making oak barrels since 1672!).  The result is a gorgeously glossy, golden wine that's scented with roast nectarine, soft pineapple, smoke, flint and cinnamon sprinkled on buttered toast.  On the palate the spices caramelise and merge with ripe citrus intensity and long, almond-edged layers on the finish.  Incredibly complex, seriously cellarable (if you have the discipline) and one wine that all chardonnay lovers should try without delay.
Tony's notes: "Skeetfield is our oldest vine vineyard at 26 years old, and most importantly, dry-farmed Mendoza. We never see such fruit intensity from other vineyards as this block. Dry farming gives excellent resilience and power".

Create a print friendly page