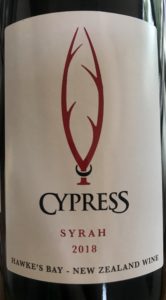 Cypress Hawke's Bay Syrah 2018 $26

The 2018 vintage of what's become a huge favourite of mine, is absolutely saturated with ripe plum, blackberry, blueberry and that all-important, syrah-staple, buckets of cracked pepper. There's a lovely layer of charred oak, black olive and a sniff of soy, meaning its everything I'm looking for in great syrah for under $30.  It's a savoury, super0-complex syrah that brings the grins with every sip.
Winemaking notes:
Hand-picked & De-stemmed to open top fermenters.
Cold soaked for 3 to 5 days, before going into wild ferment. Hand plunged twice daily during height of ferment. 22 days on skins. Seasoned oak barriques for ageing. Un-fined

Create a print friendly page